Acting Out
Acting Out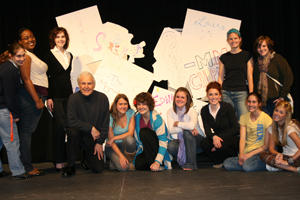 Maria Chipman '11 recently had the opportunity to learn something different about herself when she was chosen to participate in a week of one-on-one workshops with Emmy winning actor Anthony Zerbe. She learned how to be vulnerable.
"Together he and I dug into my life to find that I am a very guarded person, except for when I feel strongly about something," describes Maria. "Mr. Zerbe taught me how to speak about what I believe in, regardless of it being approved or not."
At the end of the week Maria participated in the performance, Off The Page, along with other Saint Mary's students. "It was such an honor to be selected amongst a group of such talented young women," says the communication studies major. "Plus the fact that Mr. Zerbe is a well renowned actor made it such a great opportunity to learn from his talent and experiences." Anthony Zerbe was on campus as part of the Quest Project Conference : Exploring the Science/Religion Interface.
So how did Maria feel about her night under the lights? "Nervous of course," she says."Right before the show started Mr. Zerbe could tell I was fidgety, tapped me on the leg and said, 'You're quiet, you're powerful, and it's beautiful. Have fun out there, kid.' And I did, I had a blast."
When asked about her future, Maria responds jokingly, "Actress!" In reality the South Bend, Ind., native is still working on the answer. "I've heard that once you find what you're meant to do you just feel drawn to it. I feel pulled in many directions, so it should be interesting to see how it all plays out!"