A Vocation Discovered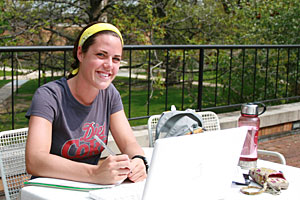 Three years ago, Alicia Carroll '12 started her undergraduate education with the intention of preparing herself for a career as a family practitioner. The Fort Wayne, Indiana, native enrolled in a science-focused schedule, weighing heavily in biology and chemistry. However, when Alicia signed up for an introductory sociology course to fulfill a general education requirement, her career path took an unexpected turn.
The course, titled Social Problems (SOC 203), focused on modern social issues such as the cycle of poverty and social stratification. The biology major was so stirred by the topics discussed in the class that she decided to pursue a world of medicine far different from the sanitized walls of a family practice. Inspired by the justice-driven facet of sociology, Alicia has since declared a sociology minor and has dedicated herself to a career in global health and justice.
"As a liberal arts college, Saint Mary's requires that we take many courses outside of our majors," she said. "I am fortunate that I have taken such courses because it is within these classes that I have been challenged to truly think about what it is I am called to do."
With a new career path in place, Alicia took advantage of programs that allowed her to further engage her interest in global health. She spent the summer of 2010 testing village diseases in Uganda. Alicia credits her time in the impoverished village as the inspiration for her vocation to global health.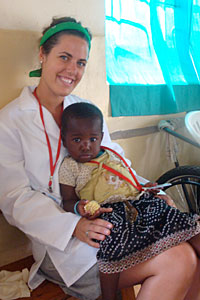 "The overwhelming feeling of gratefulness from that summer is at the center of all my decisions," she said. "I learned from volunteering that I wanted my future to involve working to eliminate the global issue of poverty."
This summer, the Saint Mary's Department of Biology and alumna Mary Burke '85 sponsored Alicia in traveling to Nicaragua to conduct research in an island village named Little Corn. She and three other Saint Mary's biology majors conducted sanitation tests on the village's wells and other water sources.
Alicia's specific role in the longitudinal study was to look for E. coli, salmonella, and other coliforms in order to classify the water as potable or contaminated. Since returning to campus this fall, Alicia has been analyzing the results of her research and will present her findings and proposed solutions for her senior comprehensive project.
Alicia has also continued to expand her knowledge of global health and justice in the classrooms of Saint Mary's. She is currently enrolled in Catholic Social Thought and Medical Sociology and says the classes have further solidified her calling to fight for equality in health care across the world.
"I can credit my stance on these issues to Saint Mary's," she said. "The College has given me the education, the opportunities, and the passion to pursue this mission not only in my classes, but also in my career and my lifestyle.
"Being on such a global and socially conscious campus like Saint Mary's has made me realize my major goes deeper than just biology and medicine. I can use my education to bring about social and global change, and that's a very empowering thing."
—Bridget Meade '12