Alternative Career - Amy Dardinger '07
Alternative Career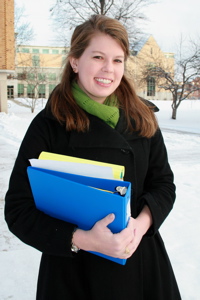 In fifth grade Amy E. Dardinger '07 participated in a mock trial with her classmates. The accused: Jack, of Jack and the Beanstalk fame. Dardinger loved the entire process, from putting together a case to determining the final verdict. It's the one experience that pointed her toward her future career as a lawyer. Dardinger recently graduated from William & Mary, School of Law in Williamsburg, Va. It's the Nation's oldest law school and was founded by Thomas Jefferson.
Dardinger has returned to campus as a development intern at Saint Mary's and as assistant director of Phonathon. In her 12-week position as the development intern, Dardinger has helped to redesign the College's Planned Giving Web site, written planned giving publications, and met with alumnae.
That is her favorite part of the job. "Saint Mary's women go on to have incredible careers and amazing lives. To hear their stories and get to learn about the influence Saint Mary's has had on their lives is an honor and a privilege," says Dardinger.
The impact of the Saint Mary's experience on Dardinger's own life has been immeasurable. As a philosophy and political science major with an Italian minor, Dardinger gained a wealth of experience that prepared her for a career in both law and development. "Saint Mary's was a natural fit for me," she says.
"I loved taking classes from Professor Pat Pierce because I had an interest in statistical analysis. My interest in philosophy came later during my time at Saint Mary's. Professor Kevin McDonnell's introductory philosophy class was very compelling, and I realized that a philosophy major was the best major for a pre-law student. Law school is really about developing your analytical thinking abilities, and philosophy is the best major to develop that skill."
Dardinger also co-founded and was co-president of Saint Mary's successful Dance Marathon program, an all-night fundraiser that benefits Riley Hospital for Children in Indianapolis. She says the program offered "a transformative leadership experience" for her. 
Luckily for us, Dardinger brought her many talents back to Saint Mary's. She decided to stay on at the College after her internship ended. She took a position as assistant director of Phonathon. Phonathon is a College program run by the office of the Annual Fund, through which students call alumnae, parents, and friends across the nation. Their mission is to establish relationships and increase annual giving participation among alumnae, parents, and friends of the College.
Once again, Saint Mary's is a natural fit for Dardinger, who says development has always been a career option for attorneys. "The tax code is incredibly dense, and by maximizing tax deductions, donors are able to make an even larger impact on the College," she explains. "There are also many trust devices and wealth transfer devices that can be utilized to make a gift to the College. Having an attorney with that expertise on staff allows Colleges to develop a robust planned giving program, which benefits Saint Mary's and our alumnae."