Alumna in the Lab - Megan M. Boyle '07
Alumna in the Lab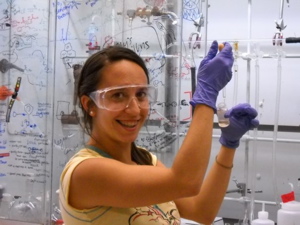 Chemistry is an ever-changing, always evolving science, according to Megan M. Boyle '07. That's what attracted her to the field as a Saint Mary's student and that's what keeps her going through graduate school at Northwestern University in Evanston, Ill., where she's on track to get her PhD in chemistry.
Boyle, who now lives in Chicago, was a mathematics and chemistry double major at Saint Mary's and recently returned to campus for the "Celebrating the Education of Women in Science" event. She met with students and fellow alumnae and was encouraged by the success of alumnae who had used their science education to make a difference in the world.
"Saint Mary's ignited a passion for science and education in me while I was attending classes. The College has so many inspiring alumnae and faculty that are there to support each other (and myself) that it is difficult not to reassess your self and consider how you, too, can make a difference," she says.
Boyle spends most of her days in the lab at Northwestern. In the morning, she's checking on experiments set up the night before. She's busy purifying compounds in the lab and going over data she's collected. Each afternoon, she sets up new experiments and writes up her research.
Boyle's work is detailed but far from solitary. Northwestern, and her research group in particular, provides a collaborative environment so that she is interacting and discussing her research with others on a daily basis. "I know that part of my strengths include working well with others and intelligently communicating my research because of my experiences at Saint Mary's," she says.
In addition to Boyle's classroom experiences at Saint Mary's, she worked with chemistry professor Toni Barstis on developing some inquiry-based tutorials to teach quantum concepts in physical chemistry. "I was a math major too so it was a really nice way for me to combine my math and chemistry skills in the form of a research project. Furthermore, it opened up opportunities for me to discuss my work with other chemists and mathematicians at conferences," says Boyle.
In fact, Boyle's Saint Mary's education affected all aspects of her life, including her hobbies. She has run two marathons and two half-marathons since graduating from Saint Mary's. "I like to say that Dr. Barstis was the first to turn me on to running—another little way Saint Mary's affected me," says Boyle.
Her love of art, music, and cooking also keep her well-rounded outside of the lab. These interests, she says, have given Boyle "the freedom to express myself even though I am a fairly analytical and science-minded individual." That's something this self-professed science and math "nerd" will carry with her through graduate school and beyond.