American Girl - Eilis Wasserman '12
American Girl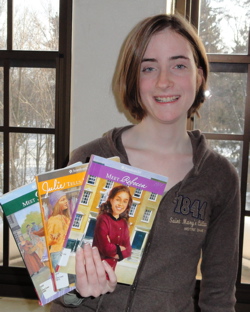 In a corner of South Bend's Francis Branch library a huddle of school-aged girls gather round Eilis Wasserman '12. The Saint Mary's student is sharing with them something she's been passionate about since she was little—history, from a young girl's perspective. 
Eilis (pronounced Ay-lish) is a communication studies major and a dedicated fan of the American Girl book series and dolls. This spring, she's hosting the American Girl Club at two South Bend libraries, where she is leading girls in grades 3-5 in a discussion of the various dolls, their corresponding books, and the historical period in which each story is set.
Eilis discovered the American Girl dolls and books when she was little. She had a subscription to the American Girl magazine and visited the company's store in Chicago. She says she loves history—each American Girl's story is set in a different time period—but her affinity for American Girl is more than that.
"I love that the dolls portray American history for young girls through great perspectives that engage girls in a fun and interesting way. American Girl dolls help young girls see their place in American history and the girls who came before them," she says.
Minors in English writing and, not surprisingly, American history, give Eilis plenty of opportunities to develop expertise in the subjects she loves most. She is excited to pass on the knowledge to young girls through her library club. She knows she is a role model for her club members and wants to encourage their interests in U.S. history. "I am hoping the club helps them appreciate their identity as an American and how blessed they are to live in this great country," she says. "I wish for them to understand how our American society has evolved, and the three basic tenets of our lives here—life, liberty, and the pursuit of happiness."