Elemental Change: Angela Willson '12 Transformed by Chemistry Studies, Spiritual Discovery
Just as atoms and molecules bind to form more significant matter, Angela Willson's experiences at Saint Mary's College have changed her essential nature, shaping her life into something more substantial than she'd ever expected.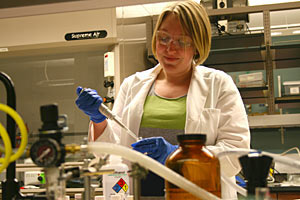 Angela works in a nanotechnology lab at the University of
Notre Dame as part of the a summer fellowship. 
"Saint Mary's is the place where I have found myself," said Angela '12, a chemistry major from Portage, Michigan. "If you put your heart into Saint Mary's, she gives back. Saint Mary's has made me a confident woman who is not afraid to step into the world."
This confidence helped Angela land a prestigious research fellowship in a nanotechnology laboratory at the University of Notre Dame this summer. The Nanoelectronics Undergraduate Research Fellowship (NURF) pairs 32 students from all over the world with science professors. Saint Mary's students Suong Do '12 and Diana Vega Pantoja '13 also participate in the program.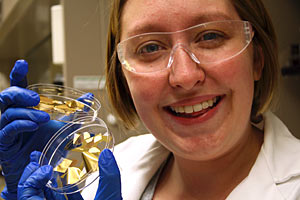 Angela shows the gold medium that she's researching.
For her fellowship, Angela is working with Notre Dame chemistry Professor Paul Bohn on gold nanowires, filaments visible only through a microscope. The ultimate goal of the research is to use the wire, which is attached to a porous membrane, to detect biomolecules such as lipids and cholesterol. But the painstaking research has helped Angela understand that end results can be years in the making.
"Nanotechnology is kind of a weird world," she said. "It isn't like other chemistry where there may be an immediate color change. But it's still fascinating to see what the life of academic research is like firsthand."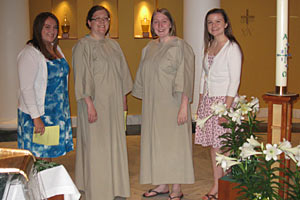 Angela, third from left, was baptized into the Catholic faith
last year along with Randi Beem '11, second from left.
Also shown are their sponsors Erin Valencia '11, far left, and
Christine Hendershot '12, far right.

As passionate as she is about chemistry, Angela doesn't spend all of her time in the lab. She has participated in Women's Choir every year, studied abroad in Spain, held office in the Saint Mary's chapter of the Society of Women Engineers, served as president for the service organization Rotaract, and will be co-president of the Saint Mary's Affiliation of the American Chemical Society during her senior year.
One of her most meaningful experiences at Saint Mary's was unexpected. She entered College with no religious affiliation, but found her soul responding to the spiritual atmosphere and was eventually baptized. "It was a long process, but very rewarding," she said. "Guided by Judy Fean, the director of Campus Ministry, three other students and I experienced a finding or renewal of our faith together. I cannot imagine a better place than Saint Mary's to have this experience of faith and community."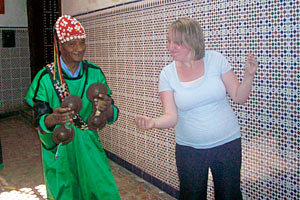 Angela dances with a local band in Morocco during a trip
she took while studying abroad in Spain.
She treasures that community. "I talk to friends from home about our respective schools, and no one has the same quality of friendships like what I have built at Saint Mary's," she said. "Coming in as an only child, I have now left with lifelong friends who I truly consider the sisters I never had. At Saint Mary's we challenge each other to do our best without competing with each other. By working together, we can all learn the material and become better women because of it."
She's certain the knowledge and talents she's developed at Saint Mary's will serve her well in the future. "I don't know what I want to do after graduation, but I know that once I figure it out, I can make it happen," she said. "My professors have helped me see all of the options, including continuing my education at graduate school, which is something I never even considered before I began college. The sky is the limit."