Around the World - Wenwen Bai '10
Around the World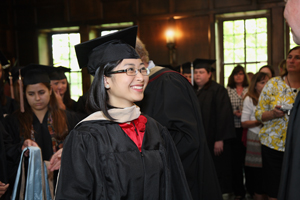 Wenwen Bai '10 at the business department hooding
ceremony last May.
Grace under pressure. According to Wenwen Bai '10, that's the key to success, in academics and in life. Bai graduated last May with a BA in economics and a BBA in business administration.

It took Bai a certain amount of grace under pressure just to attend Saint Mary's, which is thousands of miles from her home city of Chengdu, China. Her incredible drive has resulted in two degrees, an invaluable study abroad experience in Rome, and a future in public accounting, among other opportunities.

In her sophomore year, Bai received a Student Independent Study and Research (SISTAR) grant along with her professor and mentor Jerome McElroy. The prestigious grant funds summer research and creative pursuits for a faculty-student team. Bai and McElroy studied China's trade investment and aid in the Pacific and Caribbean islands and their analysis was published in the Island Studies Journal in 2009.

The research experience impressed upon Bai the significance of various countries' roles in the global community. She says that her time at Saint Mary's, especially her studies in Rome, has taught her about her own role in that community. "[My study abroad experience] impacted me tremendously. It contributed to shaping me as a global citizen…This experience helped me gain true appreciation for Western civilization in regard to philosophy, art, and history," she says.

Saint Mary's also taught her how she could make a difference in the lives of others. As a member of the Around the World Club, Bai helped organize cultural events, including the hugely successful China Night, and offered support to other international students. She says that in addition to cultivating her identity as a strong, intelligent woman of faith, she has learned to give back. "I have truly developed an appreciation for humanity," she says broadly.

Her future now at hand, Bai is pursuing a master of science degree in accountancy at the University of Notre Dame. She will have another opportunity to demonstrate that grace under pressure as she prepares to practice public accounting.