Having a Ball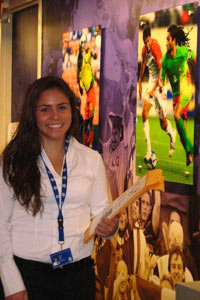 Ashley Morfin '13 at her paid summer
internship with the International
Federation of Association Football (FIFA)
in New York City.
You could say Ashley Morfin '13 has won the World Cup of paid internships. For the past three summers, she has worked for the  International Federation of Association Football (FIFA) in New York City.
A business administration major and Belles soccer player, Ashley spent her first summer in FIFA's marketing department. "I was in charge of setting up the website and adding advertisements for game tickets and shopping online," she says.
The second summer was even more incredible. "I worked in accounting during the World Cup," she says. "I helped log payments and helped make the match scripts for the announcers of the game in English and Spanish."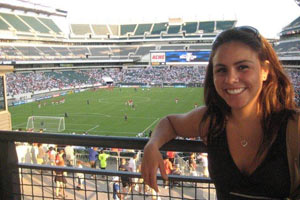 Ashley at the 2009 Gold Cup championship game, United
States versus Mexico, in Newark, New Jersey.
And this summer, Ashley worked with the competition division of the organization. "During the Gold Cup, I was in charge of transportation for the teams, coaches, and staff," she says.
As with any job, there are perks. In this case, they're fantastic. Ashley and the other FIFA interns get tickets to games in New York and New Jersey, including Gold Cup games. These were perfect benefits for Ashley, a soccer fan who hopes to work with FIFA for her career. During summer, she also played soccer with the New York Athletics Club that travels around New York to play in semi-pro tournaments.
Back at Saint Mary's, Ashley, a native of Crown Point, Indiana, is making the most of her college days. Within her business administration major, she is concentrating in finance and accounting. Her minor is mathematics.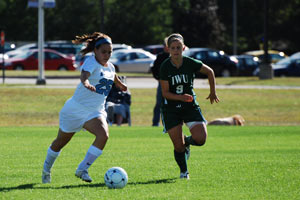 Ashley, left, plays forward for the Belles soccer team. 
Ashley participates in volunteer programs such as Habitat for Humanity and working at a local nursing home. To help finance her education, she works in the business office in Le Mans Hall and as a desk worker at Angela Athletic Facility. She also receives an economics scholarship and a Saint Mary's grant.
On the soccer field, she is a starting forward and has played in almost every game in her first two years. "Playing soccer helped me make friends fast," she says. "Also, it has forced me to make good study habits and organizational skills. The coaches know academics come first, and they are always checking up on the team to make sure everyone is on track with their grades."
She calls Saint Mary's her second home. "I have been visiting Saint Mary's since my older sister, Shannon, came here in 2004," she says. "I noticed my sister really grew as a person and I could only pinpoint this change to one thing—Saint Mary's. I knew this is what I wanted out of a college: to be challenged, learn more about myself, and be motivated by my peers and professors. The girls here are extremely nice, personable, intelligent, and truly genuine."
She enjoys the small, all-women's campus. "The class sizes are not too big, so I feel comfortable asking questions and participating in class discussions," she says. "Everyone takes their academics very seriously, and I like being in an atmosphere with highly motivated students who are determined to learn and succeed at whatever they do. It is amazing to see how confident every girl is here.
The professors really want to see you succeed, and they are always willing to help. I have been pushed to my limits, and I have surprised myself as to how much I can achieve. I could not imagine a better fit."