Attention to Detail - Kristen Rice '13
Attention to Detail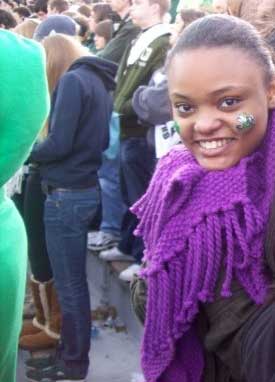 Kristen Rice '13 roots for the Fighting Irish
at a home football game.
Kristen Rice '13 admits that she's a bit of a perfectionist. "I take a long time to do assignments because I want my work to be the best it can be," she says. The rising sophomore is planning to major in business administration with concentrations in marketing and finance, two areas that require a lot of attention to detail, perfect for Kristen in other words. 

Kristen has plans to go to graduate school after Saint Mary's and she wants to work for a large company, like Xerox or United Airlines. "I love that Saint Mary's gives students the opportunity to do internships and other hands-on learning. The skills that I'm going to develop are here are going to help me tremendously," she says.

When she's not working on class assignments, Kristen is hanging out with her friends or exploring one of her myriad interests.

Sometimes that means watching movies with friends in her dorm room in Regina Hall. The study breaks are a special treat because Kristen's circle of friends includes her sister, junior Jade Rice. Jade was part of the reason Kristen chose to come to Saint Mary's. Having her sister nearby is a big support. The sisters are planning on rooming together next year. "My first year, we both stayed in Regina. I was on the fourth floor and she was on the third. It was nice being able to go right down to her room and hang out. Living together next year will be an adventure," Kristen laughs.

But there is no sibling rivalry in the Rice family. Kristen and Jade may spend a lot of time together, but they pursue their separate passions with dedicated enthusiasm.

Previously a jazz dancer, Kristen has incorporated dance into her coursework. Her favorite class last semester was ballet with Professor Indi Dieckgrafe. She says her proudest moment was nailing all the feet positions. She loves working at the barre and doing pirouettes and the students she met, all beginners, bonded quickly. "Even when someone would mess up, we all laughed because we were all in the same boat," Kristen says.

Kristen's tendency for perfectionism doesn't keep her from trying new things. In addition to dance, she makes a point to take a variety of classes because it helps her determine her own likes and dislikes. "The different things you learn are what make this an amazing experience," she says.

Her advice for incoming students is to take as many classes on as many subjects as possible. "It will benefit you, not only intellectually, but when choosing a major," she says. Take it from this future businesswoman—she may be open to new experiences, but she's going in with a plan.