Behind the Wheel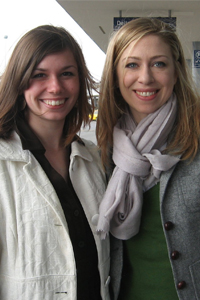 It's been 40 years since a presidential primary mattered in the state of Indiana, and the presidential hopefuls are sending out the troops and calling on the locals for a little assistance. Senior Renee Woodward answered that call. Woodward's schedule allowed her to be chauffeur for a day for the former First Daughter, Chelsea Clinton. Chelsea and actor Sean Astin were recently in town campaigning for Hillary Clinton, who is running for a spot on the Democratic ticket. Local college students had an opportunity to engage in the political process during a question and answer session at Legends restaurant, located on the University of Notre Dame's campus. Was Woodward nervous about driving the daughter of former President Bill Clinton?
"I was very nervous when I first got in the car, alone. Once Chelsea got in, I knew I had a task and I had to do it well. At that point, my nerves subsided because I was focused on driving. However, I figured if I ran off the road, at least I'd get my 15 minutes of fame on CNN!"
Woodward delivered her safely, and even though Chelsea was busy catching up on e-mails and headlines, the two had a chance to talk. "She was very polite and seemed genuinely interested in South Bend and its college community," says Woodward.
Woodward, an intern in Senator Evan Bayh's office, had her first direct involvement with politics last year during a summer internship in Congressman Joe Donnelly's office. She has been interested in the electoral process and human rights issues for the past five years. She says she can see herself running for a local office in the future because, "I don't want to have to commute to and from Washington D.C. every weekend like many senators and congress people do."
Woodward is also the women's issues commissioner on the Board of Governance (BOG), the director of the Women's Resource Center, and a ResNet manager at Saint Mary's. She is double majoring in women's studies and communication studies , and lists Joy Evans, the assistant director for scholarship and research in the Center for Women's InterCultural Leadership (CWIL) as someone who has always offered to help her in her career aspirations, as well as encouraged her to grow as a woman. "I'll always appreciate our little chats that turn into really long chats," says Woodward of Evans.
A Mishawaka native, Woodward wanted to attend a small private institution. After visiting Saint Mary's she knew it was right for her. "I'm convinced the education here is second to none. Thanks to Saint Mary's College, I feel I have grown into a mature well-rounded woman. Come May, I feel prepared to take on the world!"
Saint Mary's College does not endorse political candidates.