Believe in Yourself
Believe in Yourself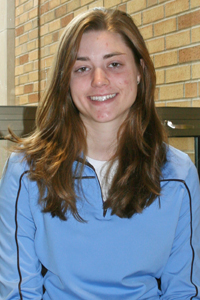 Senior Christine Johnson spent this past Christmas with family, sharing in their tradition of attending church on Christmas Eve, and then going out for dinner. "My grandma, great aunt, and good friend from Russia join my immediate family [mom, dad, and younger brother]. On Christmas Day we have breakfast, open gifts and then have a Christmas dinner in the afternoon," describes Christine. Before going home she celebrated the holidays when she volunteered on December 5th for the Breakfast with Santa at the Center for the Homeless in South Bend.
Christine has grown confident in her self since her first year at Saint Mary's. The Lake Geneva, Wis., native had the support of professors at the College. "In my first year, Professor [Leslie] Wang helped me adjust to college through his sociology class, and Professor Gina Christiani helped me as well," says Christine.
Christine's confidence carries over to her activities and she has been busy during her time at Saint Mary's, attending Al Zahara club meetings, volunteering as a tutor at a local high school, and volunteering with Dance Marathon in support of Riley Hospital for Children. This past summer she worked at Camp Shalom, a Jewish summer camp in Madison, Wis. "It was a rewarding experience and it allowed me to work with amazing teachers, who were directors of the camp. They taught me valuable strategies for working with children." Christine also tutored at a Christian school for girls near her hometown, and she volunteered at a Special Olympics event. This semester she'll be participating in a school psychology internship at a local elementary school.
With a major in psychology and a minor in early childhood education, post-graduation plans for Christine include attending graduate school to become an elementary school psychologist. "I feel that Saint Mary's has definitely prepared me for my future," says Christine. "I've learned to cope with stress in order to persevere and reach my goals, as well as how to effectively communicate in writing and in speech." She also reflects on the friendships and connections she's made at Saint Mary's, along with the self-confidence she's gained while here. "I believe in myself so much more than I ever have and am confident that I can achieve my dream of becoming an effective, compassionate school psychologist."