Beyond the Numbers
Beyond the Numbers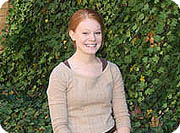 Anyone who thinks math is no fun has never met Anna Fricano.
Now a junior, Fricano still laughs when she remembers the first time she walked into her freshman calculus class. "There was a millisecond where I thought, 'Wow, there's a lot of girls in here for a math class.' And then immediately it dawned on me: 'Well, I go to an all-women's college—there aren't going to be any men in here!'"
Growing up in Michigan, Fricano attended a co-ed high school. At Saint Mary's, she says, "it's empowering to be in a class with all women … In a women's environment, math is just interesting, and it's fun."

Originally planning to major in business, Fricano chose mathematics at the urging of Professor Joanne Snow. "She is such an expert in the field and I respected that so much," Fricano says. "She's made herself so available to us, and I've found that to be true with all the math faculty."
In 2006, Fricano's professors nominated her for a Clare Boothe Luce scholarship, which she won. Covering tuition, books, travel to conferences, and an internship, Fricano says the scholarship is both "a financial blessing and a vote of confidence" from her teachers.
With interests beyond numbers, Fricano is pursuing minors in computer science and Italian . She also studied abroad with the Saint Mary's Rome program . Looking ahead, she says, "I still would love to work in the business world, for an investment firm or a big corporation. But at the same time, I'm starting to think about grad school."
"Having a math degree really opens up a lot of the same opportunities as having a business degree, because they're looking for people with good analytical skills. And really, that's what a math degree gives you. You can analyze problems and look at problems from a different perspective. That's just how we're trained to do things."