Bird's-Eye View
Bird's-Eye View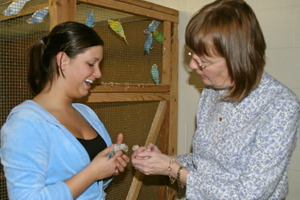 Laura Powell with Dr. Doris Watt in aviaryA visit to Saint Mary's was all that it took for Laura Powell to know that she had made the right choice. And then she received her class t-shirt, with the slogan, "We promise you discovery of yourself." The Lima, Ohio native says she initially thought nothing of it, but after her first year she realized Saint Mary's had kept its promise. "I believe that life is what you make it, and Saint Mary's provides many opportunities for any student to succeed in whatever they want for their life."
For the sophomore biology major, that would be going to a school of veterinary medicine and eventually becoming a veterinarian. She says she knows that Saint Mary's is preparing her for that through its outstanding biology program, and its high acceptance rates into veterinary and medical schools. "I also know that the small classroom setting gives me a chance to collaborate with the professors," says Powell.
Powell is an Animal Room assistant, responsible for the care of lab animals. She also cares for parakeets in the science building three days a week, and she has joined Dr. Doris Watt in her avian blood cell research. Powell says Dr. Watt has made a huge difference in her career at Saint Mary's. "I feel that there was a mutual likeness and respect from the beginning, but what has really made an impact is her belief and confidence in the fact that I can succeed. I have never had a teacher or professor support me the way that Dr. Watt does. Every time an opportunity arises, especially concerning animals or biology, she always thinks of me and invites me to join in some way."
Powell is involved in the Saint Mary's Future Women Doctors' Club, the Saint Mary's College Biology club, and the Notre Dame/Saint Mary's College Pre-Vet club, which has provided her with the opportunity to travel to American Pre-Veterinary Medical Association symposiums. Powell, who has a minor in dance, teaches dance at Southold Dance Theater and Gymnastics Michiana. She is busy in the summer months working for Cheerleaders of America, where she travels around the U.S., teaching at cheer camps for children. In her spare time she volunteers at the Humane Society of Saint Joseph County.
Powell says her favorite class was poetry writing with Sister Eva Hooker, C.S.C.
"The best part about it was the fact that everyone in the class, including Sister Eva Hooker, had a strong bond with each other because we were sharing such personal thoughts."
Powell takes full advantage of all that Saint Mary's has to offer, including financial assistance that helps make her attendance at the College possible. "With all the help Saint Mary's has given me, my tuition would almost be equivalent to a public school," says Powell. "I am truly blessed."