Born to Lead
Born to Lead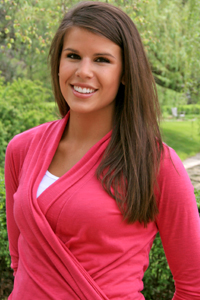 For senior Francesca Marie Johnson one of the best parts of being a student at Saint Mary's has been the many opportunities she's had to develop leadership skills. "I was able to have the most first-hand experiences working on programs than any of my friends at other institutions," says Francesca.
With a major in mass communication and a minor in business and advertising, Francesca has been able to use her leadership skills to raise money through Dance Marathon in support of Riley Hospital for Children. She has been the president for Dance Marathon for three years and this past year she was responsible for overseeing all fundraising efforts. In her first year at Saint Mary's, Francesca helped to establish the all-night event that has raised over a quarter of a million dollars over the past four years. The program was awarded the National Incentive Award, and Saint Mary's is the model school for Dance Marathon through the Children's Miracle Network.
In keeping with her penchant for leadership, Francesca is a member of Lambda Pi Eta Honors Communication Society. She has been a business management intern with Walgreen's, and she has worked on campus at Health and Wellness. She has participated in Junior Achievement throughout her college career and she completed her Gold Award in Girls Scouts. She has studied abroad in Seville, Spain, an experience that she says has made her a "stronger, more independent person." This May she adds another honor to her list of achievements—she'll be one of 33 Indy 500 Festival Princess Ambassadors. "I didn't even realize the honor and privilege it was until I started learning about the program and meeting all the other amazing girls," says Francesca. "Everyone in the program is so generous and caring."
In addition to participating in the IPL Parade and riding in a pace car at the Indianapolis 500 mile race, Francesca will attend other social and civic events, including participating in community outreach programs. She has met with preschool children, doing hands on activities with them. She has also met with Girl Scout troops, speaking on the importance and value of getting involved in service organizations. Francesca says she has other outreach opportunities planned, including one to Hope Rescue Mission in South Bend.
Looking back on her years at Saint Mary's, Francesca credits the College with providing her with the environment to grow and develop in many ways. "I was able to get involved in amazing organizations, and gain experience planning, implementing, and promoting various programs. Saint Mary's has given me the confidence and abilities I need to succeed in this world!"