Breaking News - Claire Patricia Kenney '10
Breaking News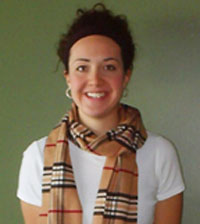 Senior Claire Patricia Kenney was already finished with the requirements for her communication studies major at the beginning of last semester. She chose to take a public relations course through the Department of Communication Studies, Dance, and Theatre anyway. "I would miss taking a class in my major too much otherwise," she says. Claire's passion is journalism and she believes strongly in the "ethical duty" of the media to report accurately and fairly to the public.

Claire has already had the opportunity to demonstrate that passion and gain practical experience in the newsroom. She completed a summer internship with WBNS-10TV in Columbus, Ohio last year. Through the position, Claire learned the ins-and-outs of a news station and all aspects of reporting, from interviewing to researching and fact-checking and filming news segments. 

A dedicated media studies student, Claire is also a reporter for Today's Catholic, the diocesan newspaper for the Ft. Wayne-South Bend diocese and she is the General Manager of SMC-TV, the College's student-run television station. She also holds the position of vice president of public relations for Toastmasters III, a Saint Mary's chapter of Toastmasters International, which teaches students skills related to oral communication. 

Her experiences in the communications major at Saint Mary's, along with her internship and extra-curricular activities, have shaped Claire's passion for journalism and her dedication to ethical reporting. "My favorite part of being a Saint Mary's student has been the passion the College has instilled in me to perform to the best of my ability and share my talents with my Saint Mary's family and the outside community," she says.

This summer, Claire will return to the College to be a counselor for the Fine Arts Camp, where she will work with students in grades five through nine as they experience art, creative writing, dance, drama, and music at Saint Mary's. In the fall, she will share her talents in a public relations position with a political campaign in Los Angeles.

Click here to read more about Saint Mary's Exceptional Seniors.