Bringing Her Gifts
Bringing Her Gifts
A little known fact: Saint Mary's College was the first institution in the world to offer advanced theology degrees to women. Theologian Bernard McGinn of the University of Chicago recognized this legacy when he accepted an honorary degree from Saint Mary's in 2007. He also predicted that, "During the course of this century, women will take on a larger and larger role in the life of the Church, intellectually, institutionally, and spiritually."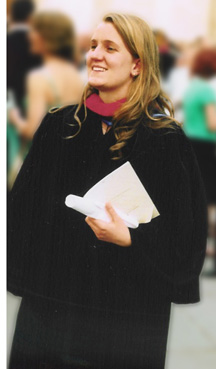 Stephanie King believes that wholeheartedly. In fact, the 2002 Saint Mary's grad has become one of those women.
King majored in education and minored in religious studies, and then went on to Princeton Theological Seminary to obtain her Master's of Divinity in 2005. After a year of ministry work at First Presbyterian Church in South Bend, Ind., she began pursuing her Ph.D. in an interdisciplinary program at Colorado State University. She is now entering her second year of what she hopes will be a three-to-four year process.
"It's a lot of school, but it all prepares me for what I hope to do in the not-so-distant future, which is teach college in a small, liberal arts setting like Saint Mary's," explains King.
As someone who loves the liberal arts but "wasn't completely sold" on the idea of an all-women's college originally, King says she looks back on her experience knowing the single-gender environment was a benefit. "Ministry is a male-dominated field, and could have been quite intimidating at Princeton. But a women's college gives its students the gift of empowerment and a confidence that makes you sure you can do anything."