Why is that Student Teacher Riding a Broom? Allie Hensley '11
Why is that Student Teacher Riding a Broom?
Don't call Allie Hensley '11 picky. The North Vernon, Ind., native is just very thorough in her pursuit of her passion before she commits. Thanks to Saint Mary's liberal arts tradition, Allie settled on her elementary education major in her junior year after she had studied classes in communications, social work, and secondary education with a major in English literature.  
Although she was determined to pursue teaching the first and second grades, she's now considering teaching older classes.  "My student teaching has opened my eyes to the older elementary grades," she said. "I'm teaching a fourth grade class at Swanson Highlands Elementary School in South Bend and I wouldn't trade one single moment."
Perhaps she was just looking for a career that would allow her time to indulge her love of photography. "Photography has been a passion of mine for many years now," says Allie. "I had hopes of being a photojournalist when I first started at Saint Mary's. Fortunately, teaching will allow me to pursue photography. I'll have summers and weekends free to take photographs. I've taken thousands upon thousands every year and assist a wedding photographer in the summers." Allie also hopes to open her own photo studio.

Don't call her picky, but you can call her "flighty" and she'll take it as a compliment. Allie started a Quidditch Club at Saint Mary's in Fall 2010 and is the Indiana State Representative for the International Quidditch Association. "We have 30 active members, three teams that play each other every Sunday, and a tremendous amount of support from the entire campus. It's been amazing seeing it grow so much in the past six months," Allie says.
All college Quidditch Clubs across the country follow the rulebook created by the International Quidditch Association, which started in 2006 and is based on the fantastical sport from J.K. Rowling's Harry Potter series.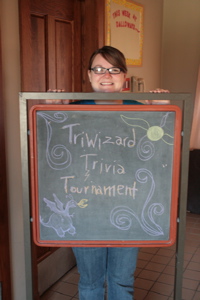 In a few months, Allie will accept her diploma and graduate. She says she never could have anticipated how Saint Mary's would change her life.
"When I was looking at colleges as a junior in high school, Saint Mary's was the farthest thing from my preconceived notion of what I wanted in a college. I thought I should go to a college with major athletic teams," says Allie.
"But I'm glad I was so wrong. I've come to love Saint Mary's for everything my 'dream colleges' weren't. The small campus has allowed me to meet some of my best friends, my faith life has taken leaps and bounds here and when I studied abroad my sophomore year in Rome, and I've truly become a well-rounded person. I've taken leadership roles that I never would have thought possible. I know this is because of the belief the faculty and staff here on campus instill in each of us."