Building Hope
Building Hope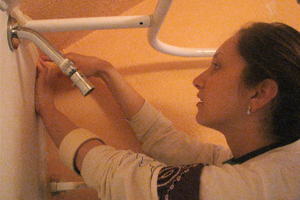 Many hands make light the work. ~ John Heywood
First year student Jennifer Kornexl lent her hands to Rebuilding Together 2008, held on April 12th. The psychology major worked with other students and volunteers on one of two sponsored South Bend homes as part of the national program that aims to rehabilitate selected houses of elderly, disabled or low-income owners. The homes were sponsored by the Office of Civic and Social Engagements (OCSE) , where Kornexl is a volunteer.
Kornexl was responsible for putting together all of the supplies needed the week before Rebuilding Together. While on site she worked for four hours cleaning and painting inside the house—working to get the rooms upstairs in better condition, something the volunteers were able to do. The best part of the experience was, "knowing that my efforts would make a positive impact on someone's housing situation," says Kornexl.
The Huntington, Ind., native attends Saint Mary's college along with her sister who is a junior. There's no sibling rivalry as the two enjoy hanging out together. "It's nice to have a family member around at all times," says Kornexl.
Besides volunteering at OCSE, Kornexl volunteers at a public library and at Warren Primary Center in South Bend as a tutor and teacher's assistant. She also works with the College Academy of Tutoring (CAT) program, and credits Olivia Barzydlo, program director, as someone who has been very helpful throughout her first year. "Whether it's an issue about school or work, she is always willing to listen."
Kornexl says she chose Saint Mary's because she couldn't pass up all the opportunities it has to offer. "Some of the programs I've been involved with work directly with the South Bend community, which is something I really enjoy. It's good to get outside of the college atmosphere every once and a while and focus on the community, rather than yourself and your studies."