Art with a Mission: Caitlyn Osmer '12 Photographs Homeless Animals
When studio arts major Caitlyn Osmer '12 photographs rescued animals, she starts with simple requests: "Please stay still long enough so I can get this picture" and "Can I just see your face?"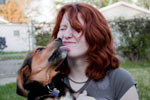 Caitlyn Osmer and Nutmeg as
they appeared in Modern Dog
magazine.
Not only does she capture each face, but she also reveals the soul of every dog, cat, rat, ferret, and guinea pig in front of her lens. And because the photos are used on pet adoption web sites, the quality of Caitlyn's art may mean the difference between life in a shelter and a forever home. "A good picture is better than a bad picture in finding a home for an animal," said Caitlyn, a native of Granger, Indiana.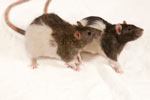 The photos are part of Caitlyn's volunteer work for Heartland Small Animal Rescue of Mishawaka, Indiana, a nonprofit organization that finds homes for rescued animals. Heartland posts Caitlyn's photos on Petfinder, an international pet adoption site. Additionally, Caitlyn's photos were a project for an independent study in photography.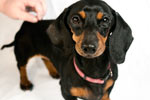 Caitlyn's interest in photography began in high school when she got her first camera and "It became clear that I was decent at this," she said. She also enjoys painting and sculpture, though photography is her main medium. Her skill has landed her freelance work with local photography studios.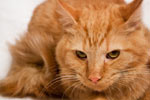 Caitlyn's first experience with Saint Mary's was attending Fine Arts Camp in middle school. "I had a wonderful time," she said. So deciding on Saint Mary's for college was "an easy choice." Caitlyn is a member of the Women's Choir and also works as the help desk manager for the College's information technology department. Next year, she'll be manager of ResNet, the residential student computer network.
"I think this is a really great college for me," she said. "There's a low class size and I got used to being with all girls. Everyone is so mature."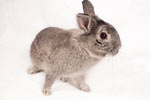 And, like Caitlyn, 80 percent of Saint Mary's students are dedicated to performing community service. Caitlyn not only photographs homeless animals, she has bathed them, transported them, and raised funds for their welfare. She was recently featured on the local news for creating a Facebook page called Lost/Found Dogs of St. Joseph County, Indiana, that reunites lost pets and their owners.
Her passion for dogs started as a girl. "I found a lost dog and we had to give it to animal control that day," she said. "But that one day with that dog, I loved. It stuck with me."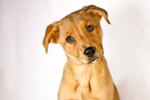 So it's no surprise that Caitlyn adopted a dog of her own, a DNA-tested rottweiler/basset hound/ Norwegian elkhound/chow chow mix named Nutmeg. Four months old when Caitlyn adopted her in April 2010, Nutmeg was transported from a shelter where she would have been euthanized. "Nutmeg is a healthy, beautiful dog," Caitlyn said. So beautiful, in fact, that Modern Dog magazine recently featured a photo of Caitlyn and Nutmeg submitted by Caitlyn's boyfriend.
Caitlyn also fosters and rehabilitates dogs. Currently, she's fostering an abused Chihuahua mix named Sherman, helping him gain confidence and learn obedience. She knows the bittersweet feeling of fostering. "The day I give Sherman up, I'll cry because I have created a bond with him and without that bond, rehabilitation is not effective," she said.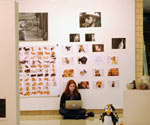 After graduating Caitlyn hopes to work as a graphic designer. Of course she'll stay involved with homeless animals. "I'd love to set up a dog rehabilitation clinic someday," she said. "I want to show these dogs that the world is OK, that it's a safe place for them."