Life Lessons Learned at Camp - Liz Kraig '13
Life Lessons Learned at Camp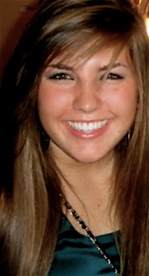 Sophomore Liz Kraig's life is a testament to the adage, "If you want to make a difference in the world, start in your own backyard." She's an education major from Geneva, Ill., who's been working to make a difference in kids' lives since she was a teenager. "The ability to teach a child a skill or lesson and have them understand it and apply it to life is one of the most rewarding feelings," Liz says.
Her experiences working as a summer camp counselor at YMCA Camp MacLean, which is a sleep away camp in Burlington, Wisconsin, for the past four years, taught her that. 
Liz grew up attending the camp. She participated in the camp's Leadership In Training and Counselor in Training programs. A true outdoorswoman, Liz has passed on her skills to her young charges—everything from swimming to hiking. This past summer she worked with the High Adventure Camp at Camp MacLean, teaching teens how to properly tie and dress knots in preparation for rock climbing.
"I really enjoy working with children and camp has taught me the importance of being a positive role model," says Liz. Now she's a role model for kids she meets through her field placements in Saint Mary's education program. Liz is currently observing in a local third and fourth grade split classroom, where she assists children with their lessons and provides an extra pair of hands to her supervising teacher. That teacher is a role model for Liz. "The teacher I observe provides great advice and helps to answer any questions that I may have about teaching," says Liz.
Liz plans to teach second or third grade in the Chicago public schools after she graduates. In the meantime, she's enjoying every moment spent observing in local classrooms and is soaking up skills that she'll take with her when she stands at the head of her own class one day.