Charting Their Course
Charting Their Course
As high school students, Brynn and Chelsea Iversen had a pretty good idea of where they'd go to college: anywhere but Saint Mary's, their mom's alma mater.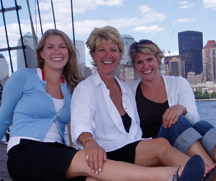 Typical teenagers.
Their mother, Dawn Santamaria, is a 1981 alumna. She always thought the College would be a great place for her daughters to land, but she didn't pressure them. As a result, Dawn laughs, "My girls had no interest in Saint Mary's whatsoever. They thought that only wannabe nuns and real jocks would want to go to a Catholic women's college."
That impression started to change when Dawn brought Brynn, as a high school junior, along to her 20th Saint Mary's College reunion. "We were able to hook Brynn up with a student volunteer who was helping run the reunion, and Brynn stayed with her in Holy Cross Hall and had a ball. She got to see my girlfriends and me interact, and her eyes opened to how much fun we had and how beautiful the campus is."
Brynn still resisted following in her mother's footsteps. "I wanted my own experience," she says. But after an unhappy freshman year at another college, she transferred to Saint Mary's and hit the ground running. Junior year, she participated in the Washington Semester Program and landed two internships that got her hooked on politics. In 2006, she graduated with a political science degree and headed to work in Washington D.C. She's now the coordinator of government affairs for the American Forest and Paper Association, handling its communication with Capitol Hill and member companies.
With time, she and Chelsea embraced the all-women's environment at Saint Mary's as both advantageous and fun. "Going to a women's college has prepared me better for the political field," says Brynn, who is pursuing a master's degree in political management at George Washington University. "I'm a lot more outspoken and I'm not afraid to voice my opinion in a room full of male CEOs. At Saint Mary's, you get used to speaking up without feeling under pressure."
While she overlapped with Chelsea for two years of college, Brynn says, "We had completely different experiences, different sets of friends and classes." Both the array of opportunities available and the girls' personalities explain this, she adds: "I'm the practical one and Chelsea is the world traveler, the dreamer with big, high hopes."
Growing up, Brynn and Chelsea had strong female role models. Their mother is the founder and CEO of Sisters Under Sail, a company that runs executive training programs aboard a 118-foot sailboat. The boat, Tallship Unicorn, has an all-female professional crew and offers programs for inner-city teenage girls. Most summers, Brynn and Chelsea worked on the ship along with their younger sisters Courtney and Samantha.
In her work, Dawn says she witnesses "how empowering it is when women join together to get something accomplished. When you give them the opportunity to step into leadership roles, they do so willingly, and they feel so good about themselves when they do."
Chelsea is now a senior at Saint Mary's. Sophomore year, she studied abroad on the Semester Around the World program, which she calls "the best four months of my life." She spent a second semester studying in Seville, Spain. "This school has given me so many opportunities, including the opportunity to pursue a student-designed major, called Anthropology of Global Development, with the help of professors who have my best interests at heart," Chelsea says.
Her studies have included courses on economic development, Third World politics, ecological sustainability, and cultural anthropology. "It can be daunting at times because it's so broad, and more importantly, because it forces me to think deeper than I have ever allowed myself to think. I am really stretching myself with this major," says Chelsea.
Looking back on her daughters' experiences, Dawn thinks it was best for them to chart their own course. "They're both so happy that they went to Saint Mary's," she says. "They loved the small school environment with the big university experience that was available across the street (at Notre Dame)." She believes opportunities for accomplishment abound at women's colleges, because students can focus on their passions. "The girls really work for themselves rather than perform for somebody else. They focus on the beauty within."
Her daughters would agree. "I know that going to Saint Mary's was one of the best choices I ever made for myself," says Chelsea. "OK, maybe I shouldn't give myself so much credit—it's one of the best choices that I have ever let my mom convince me to make!"