Chem Star - Allison Buddie '09
Chem Star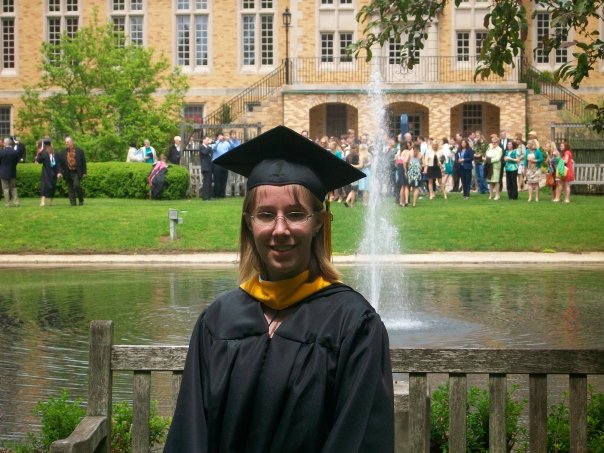 When Allison Buddie '09 was choosing a college, she looked for a school that would allow her the flexibility to explore her many interests. Saint Mary's size appealed to her because, she says, "When you go to a larger school, you are more locked into the School of _______. It's harder to change your mind." It was important to her to find a school where she wasn't treated "like just a number."
So, Buddie settled in at Saint Mary's, where she could pursue her chemistry major as well as minors in math and theatre production. In her spare time, Buddie took advantage of the extracurricular opportunities available to her. She joined the Marching Band of the Fighting Irish at Notre Dame, playing the trumpet all four years of college. She worked for the scene shop in the theatre department and became a founding member of the Society of Women Engineers on campus, among other activities.
Buddie's interest in engineering reflects a passion of hers to this day—developing alternative energy sources. As a chemistry major, she cultivated the technical background she needed to work in the engineering field, while her liberal arts education as a whole gave her the flexibility to explore areas not directly related to her major.
"This gave me the chance to start at the ground level in the engineering field in an area I am very interested in," she says. Buddie now works as an engineering aide for Westinghouse Electric Company ,LLC, in Pittsburgh, Pa. Her job involves testing codes created to analyze fuel used in the company's nuclear reactor. She also creates benchmarking reports comparing past results and data to what the current fuel usage code is predicting.
She says her broad Saint Mary's education helped shape her career path as well as who she is as a person. That's partly due to the great friends she made inside and outside of the classroom, as well as trusted professors, like chemistry professor Toni Barstis, who guided her when she needed help.
"But everyone in the chemistry department made an impression on me," says Buddie. "To many other schools, you are just a number from the beginning. I never felt that way with Saint Mary's.