Clarity and Focus
Clarity and Focus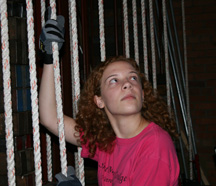 Catching a glimpse of Martha Marr may be difficult. The Saint Mary's sophomore spends her spare time on stage, often dressed in black, working behind the scenes. As a first-year student, she served on the construction and running crews of two campus theatrical productions and assisted with five of her senior classmates' directing projects.
Martha fell in love with theatre watching Anna Deavere Smith conduct a master class at Saint Mary's in January. Smith, a playwright and actress, came to campus as the annual visiting lecturer for the Margaret M. Hill '61 Endowed Series. This endowment makes it possible for an artist of national prominence to speak and teach at the College.
After witnessing the passion that Smith and theatre students expressed for their craft, Martha began to see theatre as a vehicle for understanding. "People view artistic things as unreal, but theatre can offer a precise and clear view of the world and help them see what they might not see otherwise. It's important to understand other people and why they do the things they do. Theatre helps you do that," she says.
As a political science and Spanish major, Martha wants to bring clarity to the world. She is considering adding a minor in intercultural studies, theatre, or philosophy for the same reason. "I want to be a foreign service political officer. I like diplomacy and I want help relieve the world of misunderstanding, particularly between countries," she says.
On a trip to Turkey as a high school student, Martha began to think about the compelling connection between people of different cultures and how they express themselves through language. Her travels and her love for the television show West Wing drew her toward her majors. As she says, "I was inspired to study politics—not national politics, international politics. I feel I can achieve more in an international position. This semester I'm taking two political science classes, a Spanish language class, a class in Arabic and a class titled Staging Terror."
In Martha's view, it's all about focus. "In theatre, if the light isn't focused properly, the audience won't receive the correct impression." The same is true in politics, she says. Martha hopes to apply her theatrical experience and knowledge about focus, teamwork, and collaboration in a field known for instability and miscommunication.
If all goes well, she'll shed a welcome light.
—Richard Baxter