Close to Home
Close to Home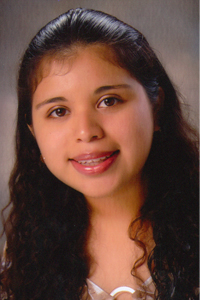 South Bend, Ind., native Alma Bravo's holiday break plans include staying right here in town. "I am looking forward to sleeping in and seeing what is new with my family and in the area," says the first year student. Because she'll be in town, she also plans to volunteer at La Casa De Amistad, a youth and adult center addressing the needs of area Hispanics, according to their Web site.
Bravo stays active on campus as well; she is a member of student clubs La Fuerza, and Pacific Asian Islander, the French club, and the Student Nurses Association. With an intended major in nursing , Bravo is looking at a minor in religious studies. She says she chose to attend Saint Mary's because, "influential adults in my life spoke to me about the emphasis placed on academics and spirituality here, two things that I believe go hand in hand."
The best part of being a student at Saint Mary's is getting to know people who have different backgrounds, says Bravo. She also appreciates the relationships she's developed with professors and staff such as director and assistant director Carrie Call and Olivia Barzydlo Critchlow in the Office for Civic and Social Engagement (OCSE) . "All of these people have shown me what makes Saint Mary's special," says Bravo. "Through their friendliness, openness, and support I have been able to call this place my second home."
Bravo plans to get a nursing degree and possibly work in one of the area hospitals. "Saint Mary's has helped me prepare for this by helping me approach the potential to heal, not only with physical preparation, such as labs, or knowledge, but with the conviction that I am going to treat people and not patients," says Bravo.