Coming to Full Blossom
Coming to Full Blossom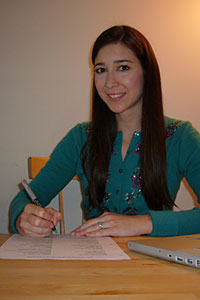 "Everyone who goes to a liberal arts school must make themselves marketable," insists Saint Mary's alumna, Lisa Maxbauer. And she would know. Maxbauer is now the Deputy Features Editor of First magazine, one of the best selling women's magazines on the market. She graduated in 1999 from Saint Mary's with a major in humanistic studies and minors in both art history and English writing.
"I loved everyone in the HUST department. I wanted to be a HUST major. No doubt about it." She credits the humanistic studies program for bringing out her inner voice. Professor of Humanistic Studies, Gail Mandell, noted how remarkable her transformation was. "By the end of the first year she [Maxbauer] was just blooming. She was one of the best! She also did well at leading seminars." It was not so easy, however, for Maxbauer to land a publishing job. After graduation, she headed for New York City with $1,700 in hopes of pursuing her dream job. Though she was offered a position in advertising, Maxbauer really wished to be in publishing. She landed an entry job with a small company, writing for Physician's Weekly. She knew little about medicine and health, though she was able to delve into any topic and explore because "Saint Mary's taught how to research and gather." Shortly thereafter, Maxbauer decided to pursue freelancing, which she enjoyed for three years. She wrote articles for publications, such as the Courier, Guideposts for Teens, Girls' Life, and The Golfer. Returning to the workforce, Maxbauer earned a position at First magazine. She was promoted three times, and now holds the title as Deputy Features Editor, overseeing one-third of the magazine. First reaches four million women 17 times a year, making it the fifth bestselling magazine in America and the bestselling women's magazine.
Maxbauer is an active member on the Saint Mary's campus serving a third year on the Alumnae Board of Directors. She is also a leader in the Saint Mary's, New York City Club, organizing events. She firmly believes in the difference a Saint Mary's education can make, as women can develop valuable skills and be supported by excellent professors who believe in them. Her best advice for Saint Mary's women is to take advantage of the networking possibilities with alumnae. In pursuing your dreams, Maxbauer speaks from her own personal belief and experience.
"Do what really makes you happy."
-Megan Stokes '09