Communicating Confidence
Communicating Confidence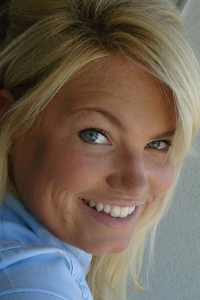 "Never in a million years did I think I would end up at an all women's college," says Saint Mary's graduate Maureen Seus '09. "It turned out to be the best choice I have made in my life." The Medford Ore., native had visited another Catholic college in the Midwest just a few days before visiting her sister at Saint Mary's. "Even though I had never lived in the Midwest before, I knew I was home," says Maureen about Saint Mary's. "Every girl I encountered seemed to have an air of confidence, sweetness, and just overall happiness to be a Saint Mary's woman."
Maureen graduated with a bachelor's of arts degree in communication studies . Next she'll be in "the happiest place on earth" for six months participating in a post-graduate Walt Disney World College Program. "After that I hope to go into public relations, preferably for a baseball team or sports related agency," says Maureen. "I hope to continue public speaking to junior high and high school women about confidence, self- respect and finding your own self-worth, and maybe eventually make a career of it."
Maureen says that the communications department at Saint Mary's has the greatest professors. "Looking back on my four years, it is hard to decide on just one favorite class. Many stand out as valuable life lessons, and unforgettable memories." She did however take as many classes as possible taught by Professor Colleen Fitzpatrick. "She is a young, enthusiastic professor with an immeasurable ability to relate to each of the girls," says Maureen. "Colleen goes above and beyond to make sure each of her students is comfortable as well as always challenged. She gets to know who you are, and not just your work—she is able to tell when you can do better, or when you have clearly tried your hardest."
While at Saint Mary's Maureen participated in intramural dodge ball and volleyball, Notre Dame/Saint Mary's Right to Life, and the fundraising event Dance Marathon , benefiting Riley's Children's Hospital. She was a First Year Orientation Leader and an intern for Saint Mary's Special Events.
Maureen says that regardless of what she chooses to do, she knows she'll be happy. "I am very fortunate to have the greatest family and friends I could ask for, and am now grateful to graduate from the greatest college I could ask for. I'm ready for anything."