Connecting at Home and Abroad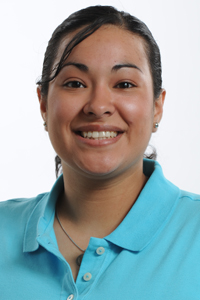 Adriana Almontes Rodríguez found something at Saint Mary's that was missing from the other schools she attended during her life. She found diversity. "I've met a lot of other Latinas on campus and we've been able to get along really well. I've made a lot of really close friends," says Rodríguez. She's been able to do what she describes as little things – speaking in Spanish with her friends, going dancing, and listening to the same type of music.
Rodríguez, a South Bend native, found much more at Saint Mary's, taking on leadership positions in various clubs. The impetus behind her extracurricular activities and leadership pursuits came from one of her favorite classes, Introduction to Intercultural Studies, taught by Mana Derakhshani. Rodríguez says she went beyond "studying it and then processing it and forgetting it. I did something about it. I made the decision to join the Student Diversity Board (SDB)."
Along with Sarah Barnes, Rodríguez was co-chair of the Hunger Banquet, a project of SDB. The Hunger Banquet gave Saint Mary's students the opportunity to donate money that would have gone toward a meal in the dining hall. Funds raised were donated to Hope Rescue Mission.
Rodríguez is also a member of La Fuerza, and Al Zahra. During the 2008-2009 school year she will work on the student-led, SDB-sponsored Diverse Students' Leadership Conference, and she will co-chair the Leadership Lunches, bringing women mentors to campus.
Rodríguez studied abroad during her 2007 spring break, traveling to Mexico City. The trip, a business program, helped her to focus and decide on her major – business administration with a concentration in international business. "I really want to take what I've learned and branch out into organizations that help people, says Rodríguez who plans to pursue graduate school and become a certified public accountant (CPA).
Rodríguez is working toward a certificate in intercultural leadership through the Center for Women's InterCultural Leadership (CWIL). Through CWIL, Rodríguez traveled to Dubai in the United Arab Emirates for the international Women as Global Leaders conference this past spring. The conference, hosted by Zayed University, gave her a chance for exchanges with local students, discussing ideas and positions, and finding many things in common.
"I found a lot of similarities between their lives and our lives, and even their religion and our religion, something that I thought that a lot of people didn't really know about," says Rodríguez. "We realized that we were thinking along the same lines. It was just nice to meet somebody else from a different part of the world, who has those same ideas, and knowing that they are trying to do the same type of things on their campus as we are doing on ours."