The Cutting Edge - Chen Chen '13
The Cutting Edge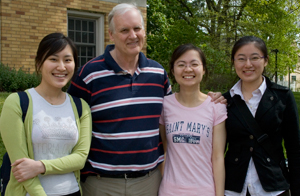 Chen (in pink) with a mentor, Professor Richard Measell,
and friends Hyun Ju Seo and Jin Yang '13
Not many college sophomores can say they feel at home when surrounded by cutting edge technology. Sophomore Chen Chen can. Like any student, she texts messages her friends and is comfortable with blogs and various computer programs she uses to type papers and conduct research at the library. But her love of technology extends beyond the norm. "I like working in a technical environment. It feels exciting to me," Chen says.

The international student from China is pursuing electrical engineering through the College's five-year dual degree in engineering program. She'll earn her bachelor's degree in mathematics from Saint Mary's in 2013 and her bachelor's in electrical engineering from the University of Notre Dame in 2014.   

Chen and her classmates in the program take all pre-engineering courses at Saint Mary's. They take all engineering courses at the University of Notre Dame.

Chen got a head start on her engineering education during the summer between her first and sophomore years. She worked with a professor at Notre Dame for ten weeks, conducting research on energy efficient tunnel transistor technology. The goal was to develop a new style of transistor to allow electronic devices to be smaller, have better computing power, or use less power.

The research experience was invaluable but something else Chen appreciates about her Saint Mary's education thus far is the College's liberal arts focus. "I like that Saint Mary's general education program provides a good balance with my otherwise too-technically-intensive schedule," she says. Each of Saint Mary's degree programs requires students to take a broad range of courses, including science, math, history, psychology, and fine arts courses in addition to courses in their major.

Chen says the requirements have expanded her interests and increased her confidence in other areas of study. "I am a person who tends to shy away from courses like, say, philosophy, but when I was actually reading stuff from the class, I felt it was interesting and it is so important for everyone to think about things like this," she says. 

Her next goal is to examine big-picture questions and use her technical know-how to propose answers, much like her summer of research on conserving energy. Chen plans on a career in engineering after graduation and looks forward to further education and advancing that technical know-how.