Preserving History - Danielle Taylor '06
Preserving History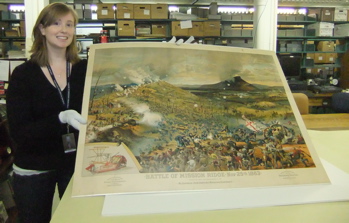 Sometimes Danielle Taylor's job involves wearing white gloves while performing preservation work on library artifacts. Sometimes, it involves researching questions on obscure bits of history associated with the McCormick-International Harvester Collection at the Wisconsin Historical Society.
Taylor loves all aspects of archival work. She's pursuing her Master's in Library and Information Studies with a certificate in Archives and Records Administration at the University of Wisconsin-Madison. She works a graduate assistantship position as a reference archivist for the Wisconsin Historical Society.
The 2006 history grad—she also completed a music minor and did her senior comprehensive project on jazz—enjoys the variety of working in the archivist profession. "Sometimes it involves taking a completely unorganized collection and processing it so that it makes sense for future researchers. My current job primarily involves reference, and I love being able to interact with patrons to try and making history accessible to them," says Taylor.
Handling historic documents on a daily basis has made Taylor an expert in certain areas of history. "There's something new to discover every day," she says. In her free time, Taylor volunteers at the music library at UW-Madison. She's applying her expertise to a project cataloging and processing a collection of old 78's from a record store in Milwaukee.
Taylor says her love of history blossomed in her coursework at Saint Mary's and now, as an archivist, she's taking what she's learned into the world in many ways. 
"Because my classes were small, there wasn't an opportunity to sit in the back and not participate. Your voice is heard, and the Saint Mary's community—whether in South Bend or across the globe—will encourage you to stand up and make a difference," she says.
Her courses' emphasis on research and writing helped her develop the skills she needs to do make a difference through her work. "Developing high-quality writing and research skills are crucial for any career, and I feel the whole process of writing and researching my senior comp is directly applicable to the research and writing I do on a daily basis."
Taylor also studied abroad through Saint Mary's European Summer Study program, which, she says, brought all the places she read about to life for her. She's had a passion for travel ever since. And she's dedicated to bringing local history to life in the same way for the Wisconsin Historical Society patrons she works with every day.