Delivering the Message - Alexandra Davin '12
Delivering the Message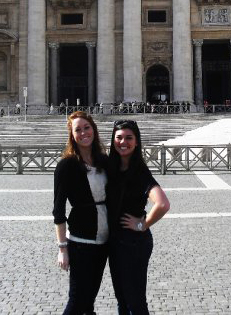 Alexandra (right) and classmate
Courtney O'Neill '12 studied in Rome together.
Transfer student Alexandra Davin '12 is a people person. You can see it in her smile. That's probably what made her transfer from a large university in Pennsylvania, where Alexandra is from, easy to make.

She transferred as a sophomore and says she was glad to have a year at another school under her belt before she figured out Saint Mary's was the place for her. "I knew what I liked and didn't like about college life and was so impressed with what Saint Mary's had to offer," she says.

So far the College has offered Alexandra engaging classes, study abroad in Rome, a position in student government, and a position as a writer for the student-run Bellezine magazine. Her academic and personal interests are largely social, beginning with her chosen major in communication studies.

Alexandra is also working toward a minor in public relations and this summer she's putting her knowledge to the test as an intern with the Pittsburgh-based LarsonO'Brien Marketing Group. She's working hand-in-hand with marketing and PR agents on campaigns for the company's clients in the building industry.

It isn't Alexandra's first venture into the world of mass communication. She also interned for the College's Student Affairs office during her sophomore year. She worked on the Operation Diploma campaign, a program that offers financial assistance for education to female veterans. Alexandra carried out extensive research for the project and planned on-campus events to publicize the program.

Her internships, in combination with her coursework, add up to a lot of hands-on experience. "Saint Mary's has been so helpful in preparing me for my career. I am a definite 'people person' and love to work with others in a public setting. The communication department here offers a minor in public relations and it really specializes in field preparation," Alexandra says.

Ultimately, this social student feels she made the right choice in coming to Saint Mary's. And she has a large circle of supportive new friends to prove it. "I love spending time with my friends and family in my spare time," she says. And that inspires her appreciation for the Saint Mary's community. "The students here can easily form connections with one another and they are unbelievably friendly and welcoming." It's the ideal place for a "people person" like Alexandra.