Do What You Love - Torrie Thompson '13
Do What You Love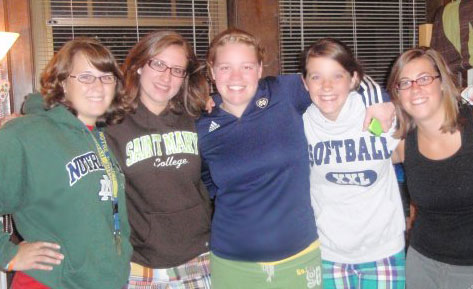 Torrie Thompson '13 (in brown) says she's "not hard to please"
when it comes to entertainment. She likes books, movies, and
hanging out with her friends.
Newly elected Class of 2013 vice president Torrie Thompson thinks everyone should do what they love. That's why she is planning on a career in business law, or as a sport attorney. "I've always has this weird fascination with the law and how it all works," says the Rochester, Mich., native.

No wonder she is involved in student government right from the start. The first-year student is a member of her Class Board and will take over as class vice president next fall along with good friend and class president Katie Gutrich '13. The duo has lofty goals.

"For me, it's important to be a part of student government because it allows me to do something for my class," Torrie says. Her goal is to unite the class through shared activities and experiences. She thinks that will be easier when they all become sophomores because as first-year students, "everyone is trying to adjust to academic and social life differently."

The confidence Torrie has gained in just her first year at Saint Mary's makes achieving her goals look more than possible. "I think the small campus allows students to get involved more easily and feel more comfortable," she says. "There's something about being comfortable in the campus [arena] that gives you this certain kind of confidence." 

Torrie says such confidence will play out well for her and her classmates in the classroom and the real world. It certainly will for this future lawyer for whom an intended political science major and business minor are just the beginning. She is still deciding between sports and business law: "The business law because I would really have to apply what I learn everyday at work. Sports law because I love sports and I feel like everyone should love what they do."