The Doctor is In - Jamie Matteo '08
The Doctor is In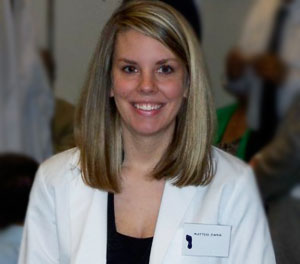 Alumna Jamie Matteo '08 hears a lot of her podiatry school classmates talking about what a major transition it was from undergraduate studies to medical school. She says her transition wasn't nearly as difficult.

"I credit this to the professors at Saint Mary's who were constantly raising the bar and challenging us to be the best we could be," she says.

Matteo graduated from Saint Mary's in 2008 with a degree in biology and a chemistry minor. She left prepared to enter the Ohio College of Podiatric Medicine where she is working toward a doctorate in podiatric medicine (DPM).

Matteo is also the clinical director at the Free Clinic in Cleveland, Ohio. She was elected to this volunteer position by the American Association of Women Podiatrists. The Free Clinic offers podiatric treatments free of charge to patients once a month.

Matteo recruits fellow medical students to volunteer their services at the clinic and coordinates with the attending doctor who overseas the clinic, and other doctors, to make sure each patient is seen by both a medical student and a doctor.

Matteo says that through her volunteer positions—she is also a science tutor at the Great Lakes Science Center—she is able to put into practice something that Saint Mary's imparts to all students—the desire to make a difference in the world.

"I think that the confidence and abilities I gained as a student have allowed me to pursue my education in podiatric medicine. My experience at Saint Mary's sparked my determination to actively make a difference in this world, even if it's just a small one," she says.

But Matteo's work as a podiatrist is likely to make a big difference to many people. Her goal is to serve people in underdeveloped countries who are in need of healthcare services and medical attention.