Double Duty
Double Duty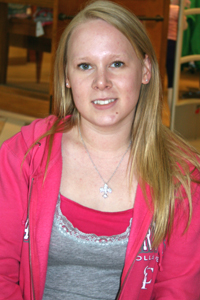 Summer vacation wasn't about slowing down for senior Brooke Druktenis. It was about performing summer service—helping others, and learning along the way. The nursing major was a student volunteer for eight weeks at the Sister Maura Brannick Health Center and at the Saint Joseph Regional Medical Center's Community Outreach Office, both local organizations in the South Bend area. No stranger to service work, Brooke participated in community service in high school. "My perspective on 'doing service' has changed and continues to change as I do more service," says the Conneaut, Ohio, native, reflecting on her high school experience. "I thought of service as going to the nursing home, serving food at the homeless shelter, planting flowers in run down parks, etc. My service at the Sister Maura Brannick Health Center put me in closer contact with those I was serving and I was able to not only see the immediate benefits of my work, but also long-term benefits within the eight week timeline."
Brooke had an exhaustive list of responsibilities between her two placements. At the Community Outreach office she completed general office duties. She also worked with senior citizens at the Martin Luther King Jr. Center, where she participated in a fitness class with them, took their blood pressure, blood sugar, pulse and answered their health related questions. She also lectured on health-related topics every two weeks.
At the Sister Maura Brannick Health Center her responsibilities gave her the opportunity to use some of the nursing skills she acquired through Saint Mary's nursing program. "I was also able to assist the physicians with minor procedures and I was able to give injections due to my nursing clinical experience," says Brooke. She also made reminder calls for appointments (in Spanish when necessary), prepared the next day's charts, and she performed one of her favorite duties—rooming patients. "Rooming patients involves getting vital information for the physician. It also involves getting the patient to disclose what it is they need to see the doctor for, which is sometimes a delicate task depending on cultural issues," explains Brooke. In a win-win situation, Brooke often worked with Spanish-speaking patients, and in turn her Spanish improved through working with Spanish-speaking employees—from learning new words to learning about different dialect quirks, and cultural differences.
Initially Brooke had considered going into pediatric nursing and she credits Professor Barbara White for fueling her passion for nursing care of ill children. "She is so spirited and shares wonderful stories with us to supplement her lectures," says Brooke. But after her summer service experience, Brooke is again evaluating the many options before her.
"After looking back on the eight weeks at the Sister Maura Brannick Health Center I feel that I have changed. I found my calling in nursing in family practice—I can see myself as a nurse practitioner or in a clinic setting similar to the Sister Maura Brannick Health Center serving the indigent," says Brooke. "I found out that I have great delegation skills, I am a stronger leader, I feel much more confident in my Spanish speaking abilities, and my skills and knowledge gained as a Saint Mary's nursing student have been reinforced this past summer. I have learned to deal with grumpy coworkers, learned the importance of building working relationships with both patients and peers, and I felt a heightened sense of God's presence in my work."