Economist Poet
Economist Poet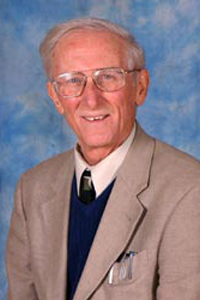 What do economics and poetry have in common? For Jerome McElroy, professor in the Department of Business Administration and Economics, they are two sides of the same coin. "The thing about our work [in economics] is that you get your information down and you can say 'it's going this way or that.' You make your discovery before you begin writing. With poetry, you find out where it's going in the middle of your writing."
McElroy is published in both disciplines and enjoys them equally because they "work both the left and right sides of the brain." A liberal arts college with a focus on writing well seems to suit him perfectly. McElroy has taught at Saint Mary's since 1982 when he transferred from a visiting position at Notre Dame.
The professor is an advisor for the economics major, a co-founder of The Farrell Mentor Program, and—like any great teacher—enjoys seeing his students excel. "Nothing is more rewarding to an inveterate teacher than to see his or her students mature intellectually and emotionally."
Junior economics major Wenwen Bai says, "I majored in economics because of Professor McElroy. A good professor can influence you for life. When I took his Introduction to Macro Economics class, I was telling all my friends, 'You have to take his class!'" Bai even teamed up with the Saint Mary's economist poet on a Student Independent Study and Research (SISTAR) Grant project to study China's aid and trade with Pacific and Caribbean islands.
SISTAR Grants are awarded to student-faculty partnerships in support of summer research and study. "We started as soon as school was out," says McElroy of the project. It's no wonder the endeavor excites him - research is in McElroy's blood. "My great uncle was Sir Alexander Fleming who discovered penicillin in 1929 and was awarded the Nobel Prize in 1945."
McElroy has a different kind of accomplishment under his belt now. He published his second volume of poetry, Sacred Traces (Finishing Line Press, Fall 2008).
Regardless of his own accomplishments, poetic or otherwise, McElroy says, "I would have to say my two proudest moments come when either a co-authored article with a student gets published, or a student with a low grade at mid-term, with some help, achieves a good grade on the final exam." For this scholar and poet, his students are the number one priority.