A School Leader, Present and Future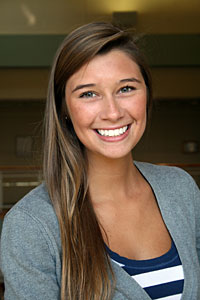 Emily Skirtich '12 has earned the title as a leader among Belles. She has been involved with the Student Government Association (SGA) since her first year when she became secretary, and, incidentally, the youngest member on the board. She currently serves as chief of staff for SGA.
No matter where Emily finds herself—working in the SGA office or sitting in a classroom—she says Saint Mary's has helped her develop her leadership skills and grow as a young woman.
"Saint Mary's is the constant companion to the evolving young woman," Emily says. "The College supports, advocates, and embraces its students throughout their four years. Students learn about the world and about themselves."
She says the close-knit Saint Mary's community, which Emily refers to as a sisterhood, helped to shape her role as a leader.
"It genuinely is one of the most incredible places in the world. You can pass a College vice president or director and they'll know you by name," Emily says. "The inclusive atmosphere and ability to talk to any member of the faculty or administration in passing is incredible. Saint Mary's should market that more."
Emily says working behind the scenes at the College has helped her see how students can make a difference at a school from the inside. It's got her thinking about a career as a school administrator, maybe as a principal in a parochial school.
"I feel a strong vocation to work in parochial schools," Emily says. "It goes back to the Holy Cross tradition on which Saint Mary's was founded: you can't educate the mind without educating the heart. I believe this to be true and it plays an integral part in what I want to do. I think that's what sets Saint Mary's apart."
Before working as a school administrator, though, this English literature major says she feels called to teach. This summer Emily served as a tutor for the Upward Bound College Preparatory Program at the University of Notre Dame. The program aids high school students from low-income families and/or will be first-generation college students, helping them to graduate from high school and fulfill their potential.
"I know that when I was in the classroom and watching them learn, it was the most rewarding thing," Emily recalls.
She has applied to the Alliance for Catholic Education (ACE) Program at Notre Dame as well as the Pacific Alliance for Catholic Education Program (PACE) at the University of Portland to pursue her dream of becoming a teacher and school administrator.
—Madeline Miles '13