Global Goals: Emma Thibaudeau '12 Looks Forward to an International Career
Today, it's Saint Mary's College for Emma Thibaudeau '12. Tomorrow, it's the world stage. The political science major has a passion for international politics and hopes to work in the global arena one day, ideally for the U.S. Department of State.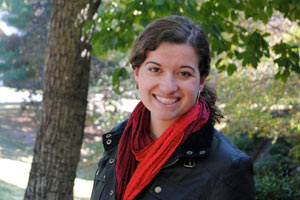 "Understanding the governments of different countries and the way they interact with each other is endlessly fascinating to me," she said. "It's an exciting game with the highest stakes imaginable."
What sparks her interest? "I love government because the actions of the government affect everyone, no matter who you are," she said. "It's a chance to make a difference, to improve the lives of your fellow citizens."
In addition to her political science concentration, Emma is minoring in a major way in three fields — business administration, history, and Italian, the last of which she added after studying in Rome. "My study abroad experience was very meaningful," she said. "I met new people and experienced new things. It changed the way I see the world and helped me to discover what I want out of life."
Far from Rome this summer, Emma will intern with the Georgia Department of Audits and Accounts in Atlanta, working in the Performance Audits Division. "This position will give me an opportunity to learn more about government and government-sponsored programs on the state level, which is an area I haven't studied as much in detail," she said.
On campus, she stays busy: "I love any opportunity to get involved and meet new people," she said. She plays saxophone for the University of Notre Dame Marching Band and the Hockey Band, which allows her to travel to football games and meet people from both schools.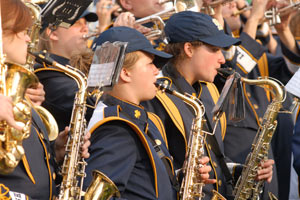 Emma, right, and Natalie Burkart '12 play in the University
of Notre Dame Marching Band.

Emma is secretary for the Political Science Club and works as a help desk consultant for the information technology department. She's the vice president of Regina Hall and a board member of the Residence Hall Association. "I enjoyed my time working for Regina Hall as it allowed me to create events for the girls who lived there as well as get involved in events around campus," she said.
Two alumnae cousins — Amy Huennekens St. Hilaire '92 and Laura Meyers Malec '98 — recommended Saint Mary's to Emma. "I am from [Marietta,] Georgia, and wanted to attend college somewhere new and different," she said. "At first I was hesitant because it was an all-girls school, but after visiting campus for Meet Me at the Avenue, I realized this was the place for me."
She's happy with her choice. "What I love about Saint Mary's is that it feels like home," she said. "The campus is beautiful and serene and I always feel safe and secure living here. I am surrounded by wonderful people every day, and the friends I have made here are my family."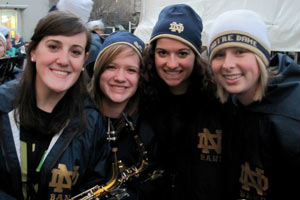 Saint Mary's students and Notre Dame band members,
from left, Kim Jordan '12, Natalie Burkart '12, Emma,
and Laura Hranac '12.

She's equally enthusiastic about the College's academics. "My professors are amazing and helpful. They are always willing to go the extra step, and the education they have given me is invaluable," she said.
"When I graduate in 2012, I don't know what my next step will be — graduate school, volunteer work, a job — at the moment I have not decided," she said. "I know that my goal is to work in international politics and I am confident that my Saint Mary's education has prepared me for whatever I choose."