Empowering Women - Connie Adams '08
Empowering Women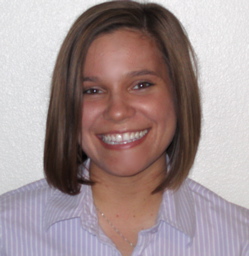 It's difficult for Connie Adams '08 to say what she loves most about her job. She has trouble choosing, but says she's blessed to be living out her passion. Adams graduated from Saint Mary's with a degree in social work and a minor in justice education. She went on to earn her Master of Social Work (MSW) degree from Washington University in St. Louis, with a concentration in Outreach and Prevention in Intimate Partner Violence and a specialization in management.
Adams is now assistant director of Saint Mary's Belles Against Violence Office (BAVO). Her position requires her to work with students who've been impacted by violence, including sexual assault, stalking, and relationship violence. She says this kind of work isn't necessarily chosen by someone; rather, it chooses them.
When she began her college career Adams was certain of two things: her disinterest in science-related majors and social work. "However, within my first year at Saint Mary's I discovered my passion for the unexpected: the social work profession," she says.
At the encouragement of her resident advisor, Adams enrolled in two social work courses to fulfill general education requirements. Her professors made a lasting impression on her. "I learned the diversity of the field and discovered the similarity between my personal values and ethics and those of the profession," she says.
Adams then interned in the Summer Service Program with the Office of Civic and Social Engagement (OCSE). She was placed at the YWCA of North Central Indiana. "While I worked in various programs throughout the summer, it was my interactions with survivors of violence which left a resounding impact," says Adams. By the end of her sophomore year, she had chosen a social work major and her specialty: violence against women.
Now, as assistant director for BAVO, Adams' objectives are focused in three categories: Prevention, Education, and Training; Advocacy; and administrative duties. She meets individually with students who have been directly or indirectly impacted by violence, provides support, and shares and helps navigate campus and community resources.
Adams also coordinates programs for students, faculty, and staff to raise awareness of violence and abuse. "Each day is a little different," she says. One of her goals as an alumna role model is to instill a passion for social justice in the students she meets, as well as to encourage their personal growth.
"Saint Mary's students are incredible women," she says. "The College offers a unique environment to promote self-discovery and holistic development. First and foremost, it is my aim to foster this environment."