Eternally Hers
Eternally Hers
Studying in Rome changed Christina Palella's life. That makes her one of a hundred Saint Mary's students who say so—every year.
Created in 1970, the Saint Mary's Rome program is the College's oldest and most popular study abroad option. More than 100 Saint Mary's women travel to Italy to spend a semester or two in the "Eternal City" each year. For Palella, the experience was transformative.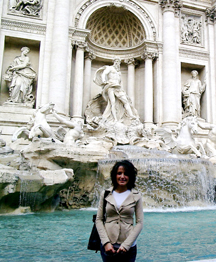 "You discover so much about yourself—how much you can do, how independent you can become, and how much you can connect with people from other countries," she says of the semester she spent in Rome during her sophomore year. "You get a taste of a different kind of life."
It's an exquisite taste. The program's campus is located in the heart of old Rome, within walking distance of famous sights like St. Peter's Basilica, the Forum, and the Trevi Fountain. Whether they take courses in Italian, art history, classical archeology, or international business, students can soak up the language and culture vividly and directly.
"Personally, it was important to me because it was the first time I'd been to Europe," says Palella, now a senior. "Academically, it was important, too—being in that atmosphere, learning from Italian professors. I loved my Italian cinema class, for example. I learned how to watch movies in a very different way, and it introduced me to foreign film."
Rome had such a lasting impact on Palella that she returned to Saint Mary's and became an Italian major. She has a second major in Spanish and a minor in secondary education. After graduation, she plans to work as a high school language teacher and hopes eventually to pursue an MA or PhD in foreign languages.
Two favorite Italian teachers at Saint Mary's inspired those dreams. "Professor [Nancy] D'Antuono is a scholar, teacher, friend, and mother all in one. Professor [Peter] Checca is the only one who can make grammar fun—and funny. Their passion for Italian language and culture really carries over to us," says Palella. "As a teacher, hopefully I'll make my classes just as enjoyable as theirs were for me. I'd like to share my own interest and excitement with students, just like my professors did with me."