European Adventure - Mary Miller '11
European Adventure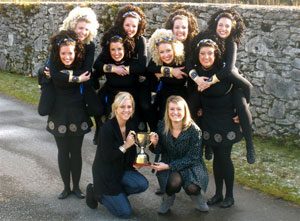 Mary Miller (left, second row) competed with the Saint Mary's/
Notre Dame Irish Dance Team in Killarney, Ireland.
Imagine walking out your front door and past the ruins at Largo Argentina every day, the legendary place where Julius Caesar met his assassins.

That's what rising senior Mary Miller experienced during her semester in the Rome study abroad program during her sophomore year. Living in the heart of the Eternal City, Mary also passed famous monuments like the Pantheon daily on her way to get gelato with friends at Giolotti's.

Her semester in Italy taught this economics and history double-major the meaning of the phrase "living history." "We could walk to Mass at the Vatican, and my roommates and I would grab our i-Pods and go on morning runs along the Tiber or at the Circus Maximus and finish our workout by running up the 122 steps of the church next to the Vittorio Emanuele II Monument," she says.

To say that every day in Europe was an adventure is an understatement. At the end of the semester, Mary and her friends stayed in Europe and traveled to Prague, Athens, Barcelona, Paris, Dublin, and several other major cities on the Continent.

Her junior year brought Mary back to the other side of the pond, to compete with the Saint Mary's/Notre Dame Irish Dance Team in Killarney, Ireland. "It was a wonderful experience because we all trained with different dance schools and competed against each other when we were younger, and then we got to compete together on the same team," Mary says. The team danced their collective heart out and won the All-Irelands Ceili Club Competition.

Mary's travel experiences have contributed to her appreciation for her liberal arts degree. "That's the beauty of a liberal arts degree—I have time to study everything I am passionate about in just four years," she says. Mary is also a mathematics minor and she is looking forward to graduate school where she will study economic development and urban planning.  It's a logical choice for a student whose travelogue includes Rome, one of Europe's most ancient and magical cities.