Family Affair
Family Affair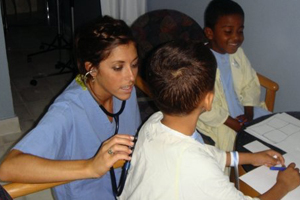 Senior Tricia Daly is all about family—and not just her own. The legacy is the daughter of Florence "Lulu" Romano Daly '82, a registered nurse, and Dr. Peter Daly ND '82, an orthopedic surgeon. Tricia, along with her parents and siblings, Talia, Michael, and Patrick, are very involved with the Nuestros Pequenos Hermanos (NPH) orphanage in Honduras. "My family chose to travel to Honduras because it is a safe environment in which we can volunteer together," explains Tricia. "My parents hoped to expose us to the reality of poverty in our world and to instill in us a sense of service."
The Dalys have been involved with the orphanage since the 90s when Tricia's mother came across a poster for the orphanage at her middle school. What started out as a side trip to deliver items to the orphanage has turned into years of dedication and service, including the Dalys working to build the much-needed Holy Family Surgery Center, located on the NPH property. NPH is Spanish for "Our Little Brothers and Sisters," and the orphanage, one of nine throughout Latin America and the Caribbean, provide shelter, food, clothing, healthcare, and education, in a "Christian family environment based on unconditional acceptance and love, sharing, work, and responsibility."
Tricia transferred from the University of Notre Dame to Saint Mary's to pursue a nursing degree. Recently she traveled with her family on a medical-surgical mission trip to the NPH orphanage in Honduras. Tricia worked in the clinic and the surgery center during the day, doing everything from stocking medicine carts to interpreting to acting as the first assistant for surgical procedures. In the evenings she spent time with the children. "I go to Honduras for the people—especially the children," says Tricia.
In addition to her service trip to Honduras, Tricia spent her summer as a student nurse at United Hospital in Saint Paul, Minn. Tricia was in a "float pool" which gave her a wide range of responsibilities in generalized nursing care. "Being in the float pool gave me the unique opportunity to experience various aspects of the hospital. I observed many procedures, treatments and operations, which tremendously helped to connect all that I have learned in the classroom. The hands-on experience solidified my nursing skills and enhanced my abilities," says Tricia.
Tricia is also active on campus and she and her brother Michael (ND'11) co-founded Friends of the Orphans (FOTO). The joint Saint Mary's/Notre Dame club plans to raise funds and awareness about NPH. "We plan on donating money for supplying and maintaining the surgery center. Money will also go towards financing surgery for orphaned children," explains Tricia.
As Tricia looks toward a life after college that includes graduate school, working as an RN, and volunteering at NPH, she knows that Saint Mary's has prepared her for all she wants to do. "Saint Mary's College fosters a spirit of social service and giving, which holds true to Jesus' words, 'To whom much is given, much is expected.' I have been blessed with so many educational and spiritual opportunities that I can use to give back for the greater good," says Tricia. "The encouraging and nurturing environment of Saint Mary's has given me the confidence and ability to do anything."