Family Medicine - Erin McQueen Young '06
Family Medicine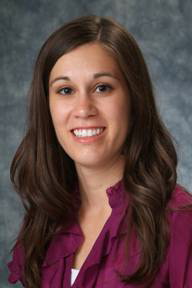 Erin (McQueen) Young '06 says she wouldn't be where she is today without her Saint Mary's education. She graduated with a degree in biology and went on to get her medical degree from Michigan State University in 2010. She is now a family medicine resident at Indiana University Health Ball Memorial Hospital in Muncie, Indiana. Before she started at Saint Mary's, Young was never totally sure she'd achieve her dream of becoming a doctor.
"Saint Mary's empowered me to reach my goals and achieve my dreams," says Young. First, she was surrounded by women with equally big goals and dreams. "We thrived off one another," she says.
In addition, her senior research comprehensive project taught her the basics of research and how it is conducted. "I learned how to apply statistics and write a research proposal and paper/presentation. I was able to apply these skills and this knowledge to research in medical school and as a physician."
Through classes like Catholic Social Thought and various sociology courses, Young developed deep compassion and understanding for others, which now help her appreciate her patients and their struggles. 
As a doctor at the Muncie hospital, she sees her own patients in the hospital clinic. She provides primary care services to children, adults, and pregnant women, and rotates through the intensive care unit, pediatric floor, labor and delivery, and other departments within the hospital. 
"I mostly enjoy the primary care aspect of my job," says Young. "I enjoy the relationships that I have already begun to develop with whole families. I feel like this allows me to truly understand the psychosocial aspects of care for each of my patients." Of all her patients, Young most enjoys caring for pregnant women. She feels honored to be a part of such an exciting time in a woman's life.
It's equally exciting to have realized her dream of becoming a doctor. "I always knew that if I could become a physician, I could make a difference in the lives of many people," says Young. And now, after much hard work, determination, and education, she is doing just that.