Fashion Forward
Fashion Forward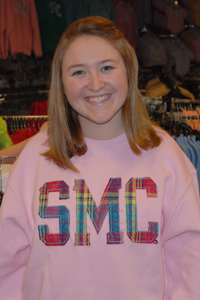 The Shaheen Bookstore recently presented a high caliber fashion show with alumna Melinda Welch '08 among the spectators. Welch is an Assistant Buyer for Sears.com Women's and Kids Footwear, a position that originated after her six-month stint in the Sears Holdings Corporation Buyer Apprentice Program.

Welch's interest in buying goes back to when she worked in the Shaheen Bookstore as a student buyer, giving her an idea of what the buying process entailed. It was during this time that the fashion show was born. "Developing the fashion show was a way to really promote school spirit," says Welch. "The first show was during my second semester of my first year. It was in the cafeteria and lasted about 15 minutes. By the time I did my 7th show during my senior year, we were in the atrium with a stage and music."
Welch was back on campus initially to speak to students of business and economics professors Bill Shannon and Richard Measell. "One day I emailed Professor Measell to thank him for some advice he gave me in college. I told him that because of his classes and his emphasis on staying up to date on news, I had a competitive edge on those in my training program," says Welch. In a return email Measell asked if Welch could come speak to his students. The invitation came at a perfect time for Welch to drop in on the fashion show, allowing her to reminisce on her past and re-appreciate the values of a liberal arts education.
Originally from Indianapolis, Welch obtained a degree in English literature and a double minor in business and women's studies . As a buyer, her job duties consist of conducting marketing projections, trend research, analyzing sales, and putting outfits together for ads. "The hands-on work I do with the product is my favorite," says Welch. "For example, I had the opportunity to go to New York City to meet with our design team and vendors to finalize our assortment for Back to School 09."
Many of the qualities that Welch exudes now are rooted in the education that she acquired while attending Saint Mary's. Welch states, "Saint Mary's gave me the confidence to believe that I can do anything." Her confidence has allowed her to succeed on both a business and personal level. She suggests that all students take advantage of what surrounds them, particularly in their field. She also adds that staring a Rolodex will ensure better networking in the future. "The first time you are in a meeting with all men and you are the only woman, you understand that Saint Mary's prepared you for that... Saint Mary's completely prepared me to defend my views and stand for what I believe.