Fashion Statement - Molly Ritter Monceaux '06
Fashion Statement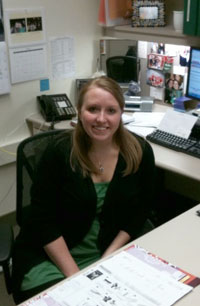 Alumna Molly Ritter Monceaux '06 does it all. As manager of special events for Macy's Midwest region, Monceaux finds herself playing the part of host, organizer, designer, and even fashion director for the department store's many events. In May, for example, she worked with the Louisville, Ky., store to organize Kentucky Derby parties with a huge focus on hats, the traditional accessory of the Derby.

Monceaux landed the special events position through contacts she made at Macy's while still a student. The humanistic studies major had an internship, arranged through Saint Mary's, at a marketing firm in Indianapolis. There, she worked with large accounts including Chevrolet Racing, General Motors, and Macy's. When a position at Macy's opened up, Monceaux was the first to know, and she delved into the world of fashion marketing with enthusiasm.

Monceaux has organized a number of exciting events for Macy's in addition to the Derby-themed parties, including a Clinton Kelly Makeover America event during which stylist Clinton Kelly from TLC-TV's popular program "What Not To Wear" provided styling sessions for participants.

While nurturing a busy career, Monceaux still finds time to give back to her community. It is part of who she is. As a student, Monceaux volunteered with several organizations including the Africa Faith and Justice Network (AFJN), Invisible Children, and the Sisters of the Holy Cross. She says the College nurtures students' desire to make a difference.

Monceaux has carried this desire into her post-graduate life with a volunteer position in the Community Impact Program for the Cook County State Attorney's office in Chicago. Monceaux spends times with children and teens who have been arrested, aiming to show them how their actions impact others and encourage them to make better decisions in the future.

Monceaux found her own mentors, like humanistic studies professor Gail Mandell, as a Saint Mary's student and says one of the perks of attending Saint Mary's was the personal attention she received from faculty. "At many larger schools you're on your own when determining your courses and overcoming challenges. At Saint Mary's, I never felt like I was on my own. I always had a professor, department head, or counselor to work through course or challenges with," Monceaux says.

That support, along with Saint Mary's broad liberal arts education helped prepare Monceaux for her career. "I've used everything from my finances and statistics course to English writing and history," she says. Monceaux confidently puts these skills to work for her in a varied and exciting career, whether she is planning a hat-centric event or providing hospitality for big-time celebrities.