Fearless Leader
Fearless Leader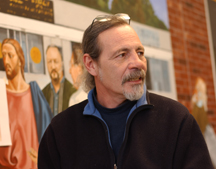 Professor Billy Ray Sandusky takes the same approach to art as he does to life, according to a former student: "He has no fear." As a teacher, that means he's not afraid to praise students and offer suggestions for improvement. As an artist, that means having the vision and energy to take on The Brancacci Project, an ambitious recreation of the 15th-century paintings that adorn the Brancacci Chapel in the Church of Santa Maria del Carmine in Florence, Italy.
Dwarfed by giant canvases in his studio, Sandusky seems relaxed rather than intimidated—or intimidating. He jokes that students don't always see him that way. "Everybody always tells me I'm terrifying at first," says Sandusky, "but that doesn't last very long." Many Saint Mary's art graduates see him as a mentor and friend. Among them is Jennifer Trachy Hakes, a 2004 alumna who collaborated with Sandusky on the first phase of The Brancacci Project. "His words are few but very impactful," she says of her professor. "Painting with him was great. It was one of the best learning experiences I've had."
Trained at Tulane University and the Herron School of Art, Sandusky came to Saint Mary's from Florence, where he drew inspiration from the masters of the Italian Renaissance. He has taught painting, printmaking, drawing, and book arts on campus since 1980. He says his teaching philosophy is to let students evolve their own style while offering suggestions and support.
Rather than cultivate a "master-apprentice" relationship, Sandusky treats young artists as individuals whose talent will grow as they invest time and effort. "They all have their own particular life experiences and ambitions, so they should also have their own way of doing things. Painting is a curious thing, like most art forms. There is no particularly right or wrong way of doing it."
That said, his standards are high. "I do try to get students to do things as well as they possibly can, so they are demanding of themselves, develop their own vision, and become proficient at what they're doing," Sandusky says. The reward for many is a successful art career. "Our graduates have done just about everything, from starting their own interior design businesses to graphic design, medical illustration, jobs in museums and galleries, and work as fine artists."
The key is having no fear.