Film at Eleven
Film At Eleven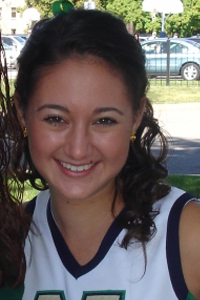 A little bit of snow didn't deter senior Jenny Antonelli from choosing to come to Saint Mary's. "I came up and visited during the worst snowstorm I had ever seen, loved the campus, and it fit all my requirements—a small campus, small classes, and big sports," says the Miami, Fla., native. "I felt like Saint Mary's gave me the best of both worlds.
Jenny has taken advantage of both worlds, as a varsity cheerleader at the University of Notre Dame, and attending an autism class at Notre Dame where she works with a four year-old girl with autism four hours a week. She is also the senior class president at Saint Mary's, and a member of Lambda Pi Eta, the National Communication Honor Society. She is currently an intern at WSBT-TV, a local television station in South Bend. As a mass communication studies major, she plans to attend graduate school for broadcast journalism.
Jenny has minors in public relations, Spanish, and communicative disorders. She says that professors Michael Kramer and Susan Latham have worked to shape her Saint Mary's experience. "Dr. Latham has opened my eyes to all the ways you can help others through her course in communicative disorders . She is loving and caring, and she understands what the Saint Mary's experience is all about," describes Jenny. "Dr. Kramer has been there to support and guide me with advice as I make decisions for my next step after college."
Part of Jenny's preparation for that next step has included studying abroad in Seville, Spain, during the summer of 2007. "Being immersed in the culture made me grow and mature even more than I had already done in my previous two years of college, " says Jenny. "I learned so much about adjusting to different lifestyles by living with a family that didn't speak English."
This past summer Jenny was an intern with MSNBC in New York City, working at Rockefeller Center. "This wonderful experience that I was so fortunate to have helped prepare me for my future in broadcast journalism."
Jenny credits her past four years at Saint Mary's for preparing her for a future full of promise. "Saint Mary's has taught me to be an independent person and how to work to achieve my goals. Everyone at Saint Mary's has had such an impact on my life—helping me grow and mature, and become a Saint Mary's woman."