Formula for Success
Formula for Success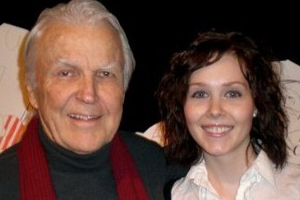 Actor Anthony Zerbe with Carly Sarachman '11Carly Sarachman '11 knows what it takes to be a successful student—getting to know your professors. "Smaller class sizes help to maximize the student-professor relationship and it really makes a difference in the learning process," says Carly. "When I personally know a professor I feel more comfortable asking questions and trying to further understand the material." Carly credits Dr. Mary Connolly for helping her with finite mathematics. "She would always find the time to help me out if I was struggling with a particular concept and she would sit with me until I understood it."
The nursing major says that her favorite class was American Popular Music with Dr. Daniel Party, where she learned about music history and new genres of music she now loves. "Professor Party really gave me a new appreciation for music and the background behind it."
Carly also notes how Dr. Kathleen Dolphin opened her eyes spiritually. "She is the type of person that is always willing to help out a student and I felt comfortable enough to just go and talk with her about various things in my life, not just school," says Carly. Dr. Dolphin also nominated Carly to participate in Off the Page with Emmy-award winning actor Anthony Zerbe. The performance event was part of the Quest Project Conference: Exploring the Science/Religion Interface . "That was a life-changing experience that I wouldn't have had if it wasn't for Dr. Dolphin."
Carly says that the experience of being on the stage was great. "He [Zerbe] taught me that it's okay to be different from everyone else as long as you are happy with what you are accomplishing in life."
The Kent City, Mich., native is involved with the student club Sisters of Nefertiti, and she is a member of the Student Nurses Association. She also kept busy working on campus at a number of jobs including being a Student Center manager. "I have also been an orientation leader, and although I am not a part of Friends with the Sisters, I often go to the convent to visit the Sisters that I worked with during my clinical experience there," says Carly.
Post-graduation plans for Carly include a career in nursing and possibly going to medical school. 'I'm not sure what type of nurse I want to be, but I love working at the convent and geriatrics," says Carly.