From A to Zupancic
From A to Zupancic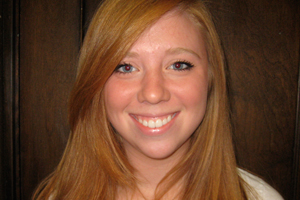 Jacqualyn Zupancic '12, of Pittsburgh, Pa., has built herself a strong foundation at Saint Mary's. Although only a sophomore, she has already engaged herself in many of the opportunities offered at Saint Mary's. And anything she hasn't tried—she'll be getting to soon enough.
Jacqualyn is a double major, with the unique combination of math and philosophy as her two main courses of study. Additionally, she is pursuing a minor in justice education. As for extracurricular involvement, Jacqualyn currently serves on the Student Government Association as president of the class of 2012. "This involves planning activities for our class as well as planning Sophomore Parents weekend," she says of her responsibilities. Jacqualyn also shares her leadership talents elsewhere.
"I am a Student Ambassador, which includes giving tours of the College to prospective students and helping out on prospective days on campus," she says. She is also a member of the math club and is a participant in the Center for Women's Intercultural Leadership Certificate Program. In addition, she references her "big buddy" position for Notre Dame's college mentors, whom, she explains, "give underprivileged elementary school children a chance to see what college life has to offer."
Among those things Jacqualyn has left to check off her list is studying abroad – and she'll accomplish that goal this coming spring. She'll be heading to Maynooth, Ireland to experience life in a whole new way. As far as her future plans go, Jacqualyn hopes to be a high school math teacher after graduating from Saint Mary's. She cites mathematics professor Joanne Snow as an extraordinary inspiration and academic mentor. "She is one of the most compassionate and caring people I have gotten the chance to know," says Jacqualyn of Professor Snow.
Jacqualyn gives much credit to Saint Mary's for her growth during college thus far. "Saint Mary's truly empowers you as a woman," she says. "It has given me a confidence that I couldn't have received anywhere else." With a solid foundation at Saint Mary's and unlimited opportunities ahead of her, it looks as though Jacqualyn will certainly be prepared to take on anything—from A to Z.
—Mary Elizabeth Ulliman '10