Future in Focus - Maddie Meckes '13
Future in Focus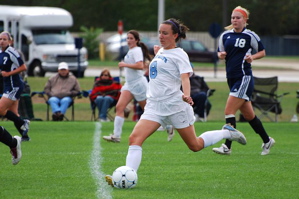 When Maddie Meckes '13 was little, she loved watching the presidential addresses on television. And, out of all the Sunday comics, she enjoyed the political cartoons the most. It would've been easy to predict the major she'd choose in college. Now a sophomore at Saint Mary's, Maddie is a political science major and French major—another passion she developed early on—and has plans for a career in international politics.
Meanwhile, the Kentucky native is experiencing French culture firsthand through Saint Mary's Dijon, France, study abroad program. She lives with a French host family and attends classes with students from all over the world. "I've taken French since the sixth grade and I just fell in love with the language and culture," she says.
The study abroad opportunity is just one way Saint Mary's is preparing Maddie for a future in politics. "Through the political science department, I've already attended career seminars, which helped lay out what career options I will have available to me after graduation," she says.
In addition, she has met Saint Mary's alumnae and talked with them about possible career paths. "Our alumnae are a great example for the students. As a Phonathon caller [with the Annual Fund department] last year, I had the privilege of speaking with many alumnae about their current careers. Alumnae are making a difference as mothers, doctors, heads of companies, nurses, teachers, and much, much more."
Maddie hopes to do the same. She's had a head start, volunteering at a local elementary school and hospital. The service fulfills a requirement for student athletes. Maddie plays center midfield for the Belles soccer team. "Although all of these events are mandatory, I really enjoy the chance to get a real sense of who the South Bend community is, and I love getting to help out people who truly enjoy being around us," she says.
Maddie is a well-rounded student-athlete who's focused on her future. All of her Saint Mary's experiences—her courses, study abroad, sports, and service—are building Maddie's knowledge base and her confidence. In fact, she says, "Saint Mary's always seems to have the future in mind."