Getting Into The Swing Of Things
Getting Into The Swing of Things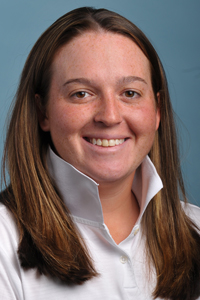 Before college, Perri Hamma '10 never spared a thought for golf. Originally from Kennett Square, Pa., the fifth-year senior, who walked with the graduating class of 2009 to receive an economics degree and math minor and who will receive a second degree in accounting in May 2010, found a life-changing hobby in the sport at Saint Mary's.
"My best friend, who played on the golf team, told me it would be a good way to help me become a part of the school," says Perri, who had had a rough start at Saint Mary's, both socially and academically. Though she had no previous golf experience at all, Perri decided to inquire about the opportunity. "I spoke to Coach Hamilton about playing, and he encouraged me to work over the summer and come out for the team in the fall of my sophomore year."
I spent that summer working on my game, which was horrible, and really wasn't hopeful about making the team," she says. "But I tried out in the fall, and for some reason, my coach gave me a chance." And for Perri, that chance changed everything. After joining the team, her academics improved immensely from the previous year, and since then, she has been on the Dean's List almost every semester.
Helping her along this academic journey were three faculty and staff members whom Perri cites as her biggest cheerleaders at SMC. "Business administration professor, Joyce Hicks, encouraged me to study accounting and has supported me throughout my entire time at Saint Mary's," Perri says. Iris Giamo, of the Academic Affairs and First Year Studies office was also an inspiration. "Iris has helped me study efficiently, take exams in a calmer manner, and has really encouraged me to try anything that I want." Perri insists, "She has been my biggest advocate, and without her, I'm not sure I would have been as successful as I have been." Not only has Professor [Jerry] McElroy, of the economics department, been a cheerleader for Perri in the classroom, but he has also taken to cheering on the sidelines at golf matches as well. "He has come out to see me play golf and has taken an interest in how I am doing with school, work, golf, and pretty much anything else!" Perri declares.
As far as post-graduation plans are concerned, "I have decided to go to work next year with PricewaterhouseCoopers in Philadelphia," Perri says. "I really want to find passion in my work."
No matter where that passion takes her, Perri's time at Saint Mary's and with the golf team will always hold a special place in her heart. "I know that my best memories will be with the golf team," Perri says confidently. "We have had the opportunity to play courses most people dream about playing and make memories that will last forever. I am truly in debt to the athletic department and the golf team." She continues, "I truly believe that Saint Mary's is a family, and I am so glad that I am a part of an elite group of women who can call themselves Saint Mary's graduates," she says.
—Mary Elizabeth Ulliman '10