Getting it Right
Getting It Right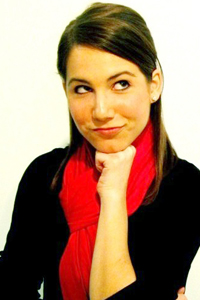 It took her a couple of tries, but eventually, Mary Elizabeth Ulliman '10, of Cincinnati, Ohio, found the place where she belonged. As a transfer student from a large public university in southeastern Ohio, Saint Mary's presented her with a distinctly different environment—one that she welcomed with open arms.
Now a senior, Mary Elizabeth, the daughter of alumna Julie Melvin Ulliman '82, has taken advantage of all Saint Mary's has to offer. She is majoring in business administration with a concentration in marketing, in addition to already having finished a Spanish minor.
Coinciding with full-time enrollment in the fall semester of her junior year, she completed a marketing internship at a Mishawaka-based firm called Quality Dining, Inc. "The internship provided me with an invaluable understanding of the business world and irreplaceable real-world experience," she says. Mary Elizabeth praises the Career Crossings Office for assisting her with placement for the internship that taught her so much.
During the spring of her sophomore year, she participated in the Seville, Spain study abroad program and says of the experience, "It was definitely the best thing I have ever done. I really picked up on speaking the language, which has always been a goal of mine, and I not only learned a great deal about Spanish culture, but I also discovered so much about myself." Mary Elizabeth cites Professor Gerald Gingras as an inspiration and mentor throughout her study abroad journey. She insists, "I couldn't have done it without him."
Back home at Saint Mary's, Mary Elizabeth keeps busy on campus as well. She sings in both the Saint Mary's Women's Choir as well as Bellacappella, a select subset of the Women's Choir. Bellacappella, which features ten to twelve Saint Mary's women, arranges and performs a cappella versions of more "popular" music, which she describes as "songs you would hear on the radio." In addition to being a member of Bellacappella, Mary Elizabeth is also the business manager for the group, which hopes to make its first tour during Spring Break.
To this day, she does not regret having arrived a little late at Saint Mary's; in fact, she sees it as a blessing. "Sometimes you have to make a mistake or make the wrong decision before you find what's really best for yourself. I wouldn't change a second of my Saint Mary's experience for the world. It has helped me grow into the person I am and will continue to shape me into the person I am meant to be."
Mary Elizabeth plans to continue studying after graduation. Whether she will choose a domestic or international location for the pursuit of her MBA, she says, "Well, that decision has yet to be made!"